Amal Clooney and her husband, George Clooney, got engaged months after dating.
George spontaneously proposed over a romantic dinner at home, although he and Amal, with whom he shared two kids, never had the marriage talk.
He hand-picked the diamond ring, which his wife later decided to replace with a more subtle band, a source reportedly revealed.
Human rights attorney Amal Clooney once revealed that she leaves her engagement ring at home because it is inappropriate for her line of work. Fans had much to say about this, as some shared mixed views.
Amal is married to Hollywood actor George Clooney, whom she wed in September 2014. The couple welcomed twins, Ella and Alexander, together.
The Oscar Award winner popped the big question at the duo's home in 2014, only seven months after they started dating. The lovebirds had a romantic home-cooked meal, after which George planned to propose, but things did not go as planned.
The movie star spoke candidly about the occasion during an appearance on "The Ellen DeGeneres Show," revealing Amal took her time to respond. She had just returned from London and suggested they get takeaway, but he had already cooked a meal for two.

A Facebook user comments on the Daily Mail's post | Source: Facebook/DailyMail
A Facebook user comments on the Daily Mail's post | Source: Facebook/DailyMail

A Facebook user comments on the Daily Mail's post | Source: Facebook/DailyMail
After dinner, the mother of two stood up to wash the dishes, something her spouse disclosed she had never done before. George divulged he had thought everything out for that evening but that there were "some horrible moments" because they had not discussed marriage beforehand.
He had the ring hidden behind her and had a playlist of his aunt Rosemary Clooney's "Why Shouldn't I" song playing in the background. At last, he blew out the candle and hinted at his love that she should check the lighter in a box behind her.

A Facebook user comments on the Daily Mail's post | Source: Facebook/DailyMail

A Facebook user comments on the Daily Mail's post | Source: Facebook/DailyMail
Amal turned around and reached for the box with a ring inside. The Lebanese native pulled out said box, looked at it, and said to her partner, "It's a ring."
George got down on one knee, and his proposal took "25 minutes." He said because they had a playlist, that was how they figured out how long it took, revealing what he told Amal at that moment:
"'I hope the answer is yes. I need an answer because I'm 52 and I could throw out my hip pretty soon.'"
Amal eventually said yes to the esteemed filmmaker's spontaneous proposal and was later photographed wearing the stunning seven-carat diamond engagement ring.
The couple walked down the aisle five months down the line in Venice, where they first crossed paths while attending a charity event. George and Amal exchanged wedding vows at Aman Canal Grande Hotel in front of family and friends.
Amal Says Her Engagement Ring Is Too Flashy for Her Job
After tying the knot, Amal reportedly moved her engagement ring to her right hand. A year following her nuptials with George, reports revealed she was looking to buy a new engagement ring to replace her original one, which shows too much bling.
The barrister was said to be shopping in an upmarket jeweler, Cartier, for a platinum ring to replace her engagement ring for when she works on serious court cases.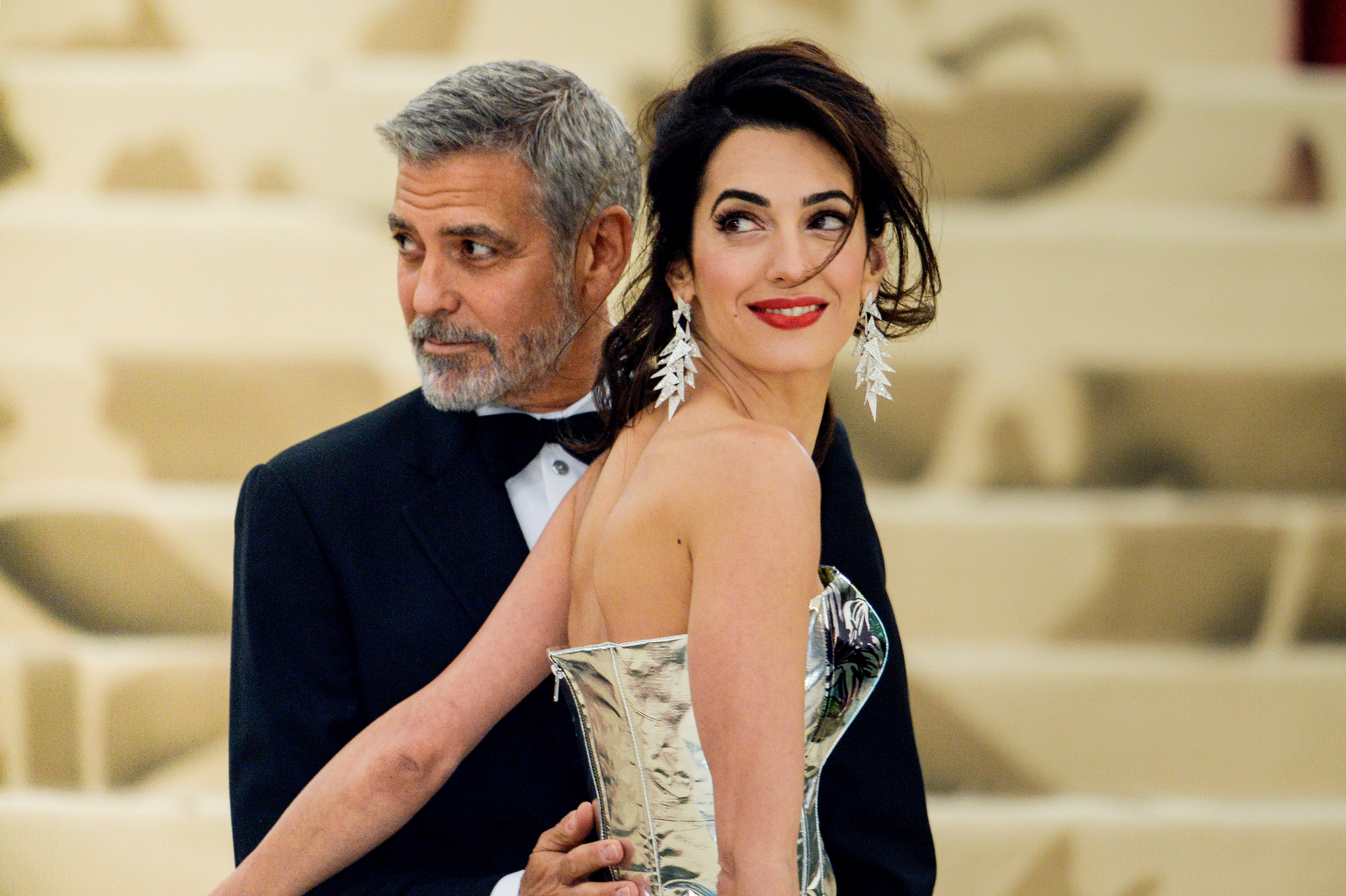 Actor George Clooney and lawyer Amal Clooney enter the Heavenly Bodies: Fashion & The Catholic Imagination Costume Institute Gala at The Metropolitan Museum on May 7, 2018 in New York City | Source: Getty Images
An insider disclosed at the time what Amal's true intentions were while making it clear it did not necessarily mean that she did not like the ring, saying:
"Amal has told friends she wants a more understated engagement ring. […] People constantly stop her and admire it for a closer look. It is a massive rock, and there is no hiding it. She absolutely loves the ring and won't be getting rid of it, but she just wants something simpler for her big cases."
Meanwhile, her famous husband George is reportedly "supportive" of her decision. However, some of his fans expressed differing views about Amal wanting a different band.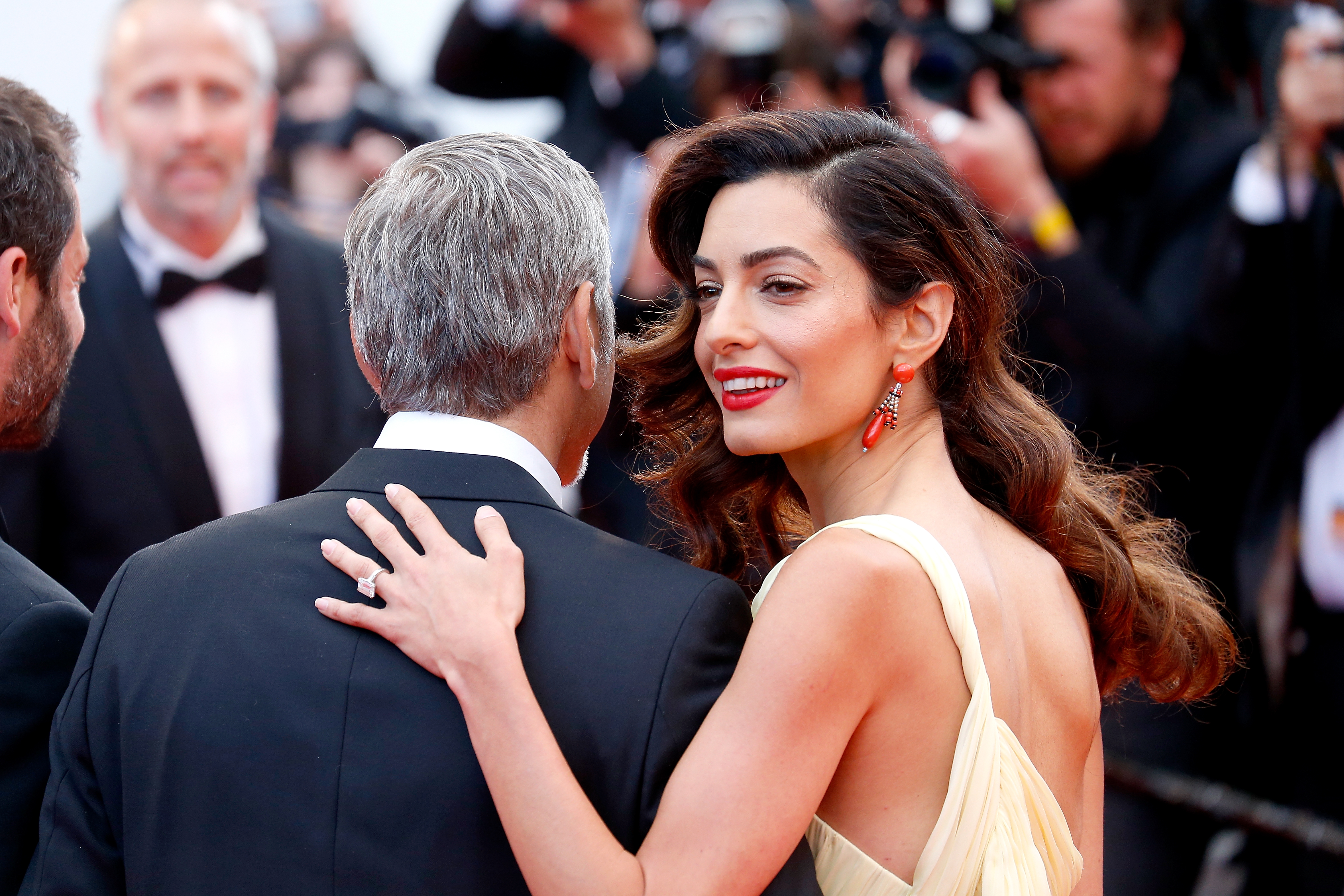 George Clooney and Amal Clooney attend the screening of "Money Monster" at the annual 69th Cannes Film Festival at Palais des Festivals on May 12, 2016 in Cannes, France | Source: Getty Images
In November 2015, the Daily Mail posted a photo of the lawyer and her spouse and another solo picture showing off her wedding band while at work. The caption read:
"Amal Clooney wants a smaller engagement ring."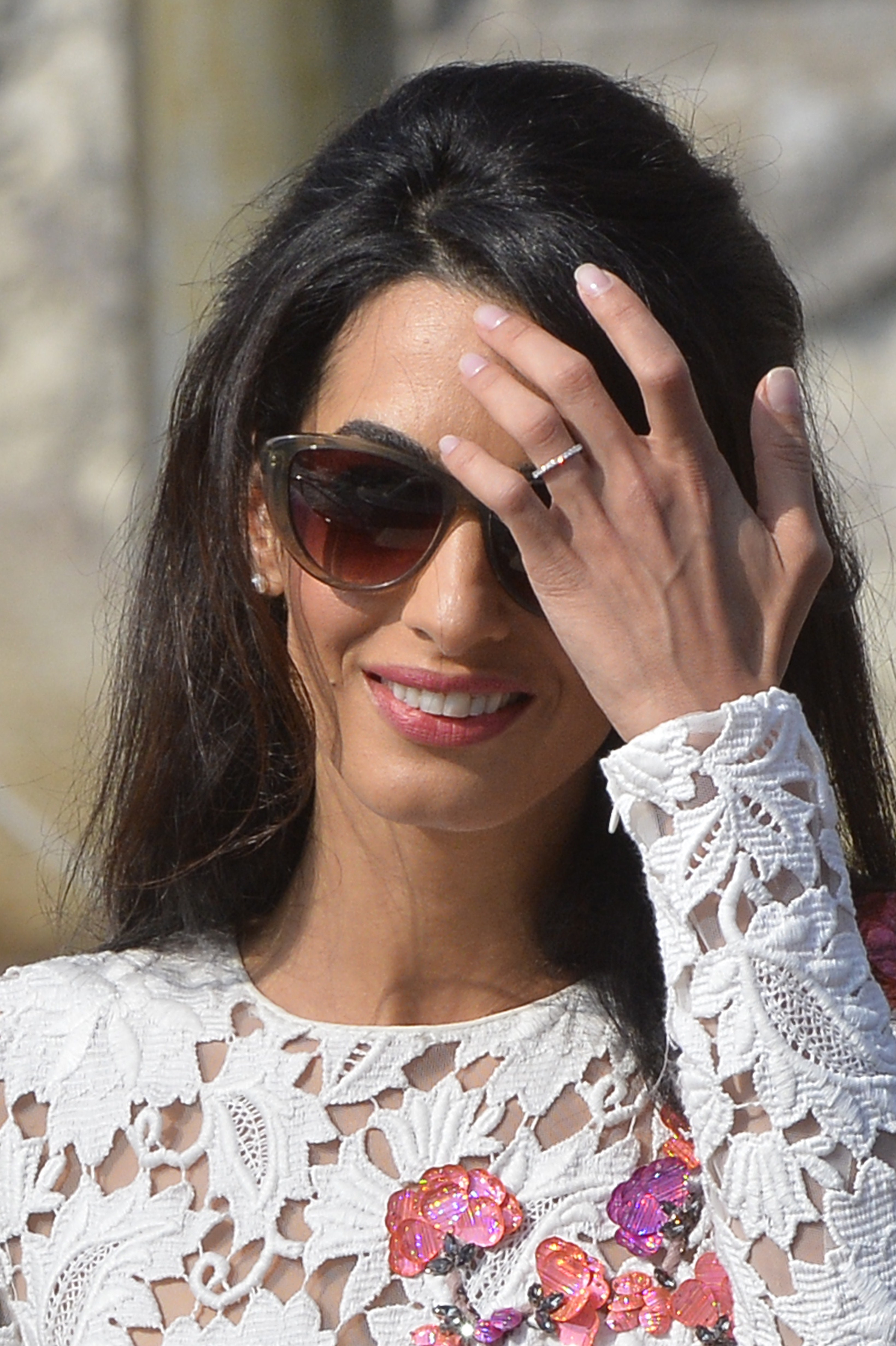 Amal Clooney pictured while standing on a taxi boat on the Grand Canal on September 28, 2014 in Venice | Source: Getty Images
Facebook users commented on the post, and some were not impressed by the statement. "That's wrong, if it's your engagement ring, then wear it!!" said one person.
Someone else penned, "Amal, it's no problem. I will take it off your hands if you find it so hard to wear. I will be happy to do that for you." While another sarcastically wrote, "Awww…such a hard life."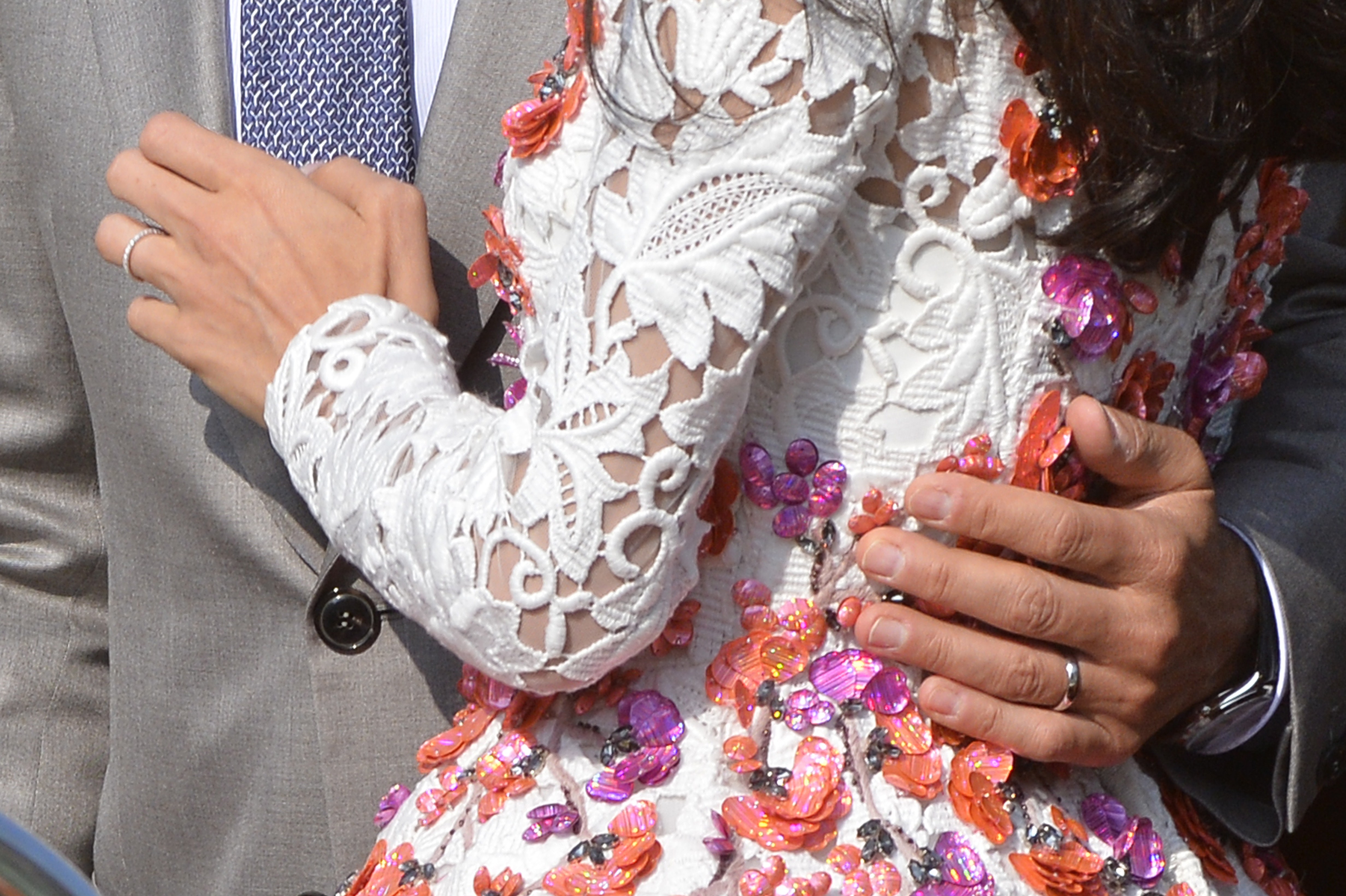 A close-up shot of George and Amal Clooney's wedding rings | Source: Getty Images
However, other social media users were in awe of Amal's choice. One Twitter user tweeted in August 2016, "Amal Clooney not wanting to wear her ring at work is so commendable," alongside clapping hands emoji.
"That's her choice," commented another online user. While someone else wrote, "I thought it was the plain gold wedding band that was important, not the engagement ring. That's why it's called an engagement ring. You don't have to wear it once you're married."
A Closer Look At Amal's Engagement Ring
George personally hand-picked his beautiful wife Amal's engagement ring – an emerald cut triple stone sparkler. The band reportedly weighs in at over seven carats and has a baguette on each side of the center stone.
Experts have estimated the ring may cost between $600,000 to $750,000, of which Amal has sported at various high-profile events over the years, including red-carpet appearances and some work outings.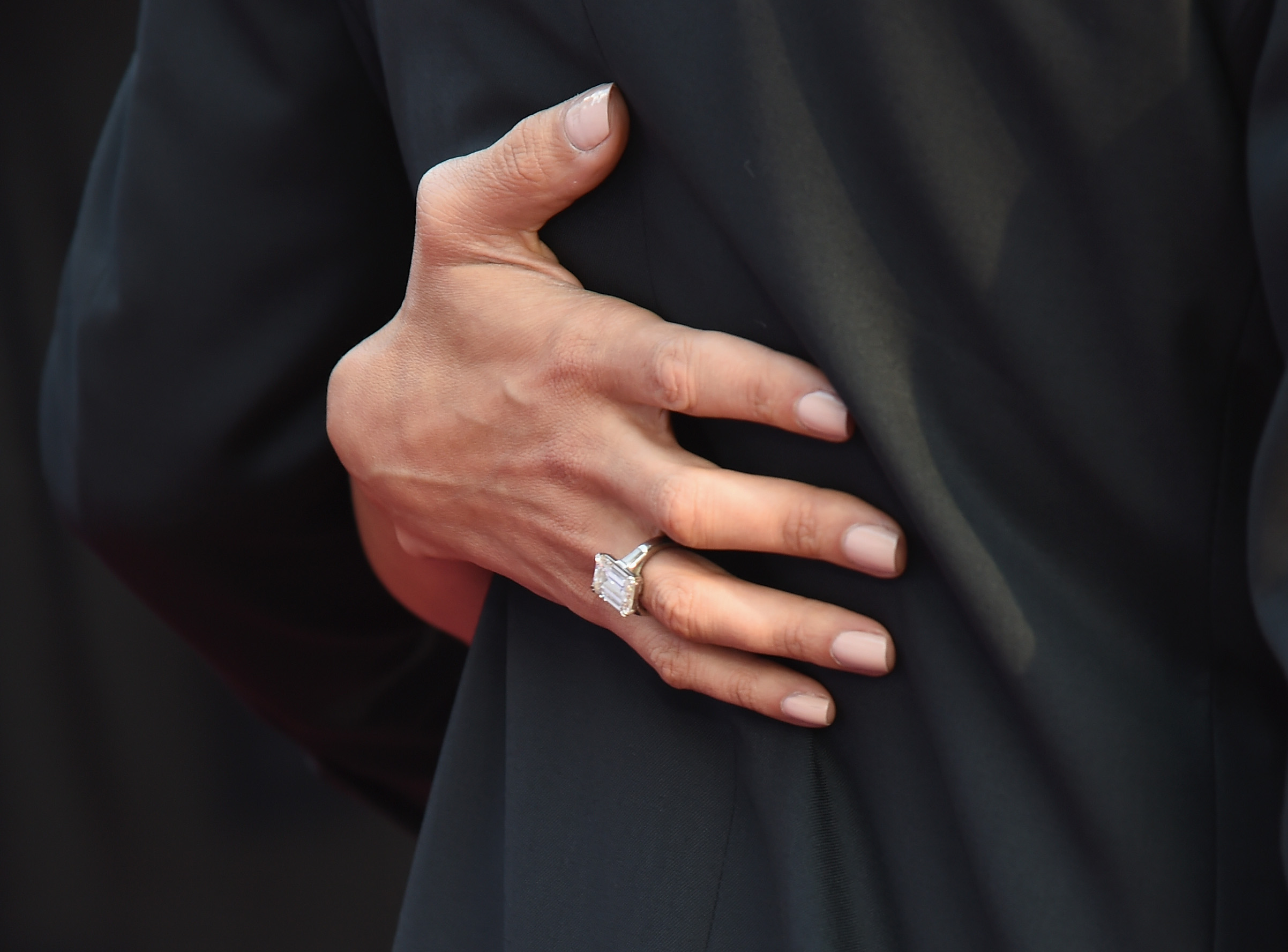 Amal Clooney, ring detail, attends the American Film Institute's 46th Life Achievement Award Gala Tribute to George Clooney at Dolby Theatre on June 7, 2018 in Hollywood, California | Source: Getty Images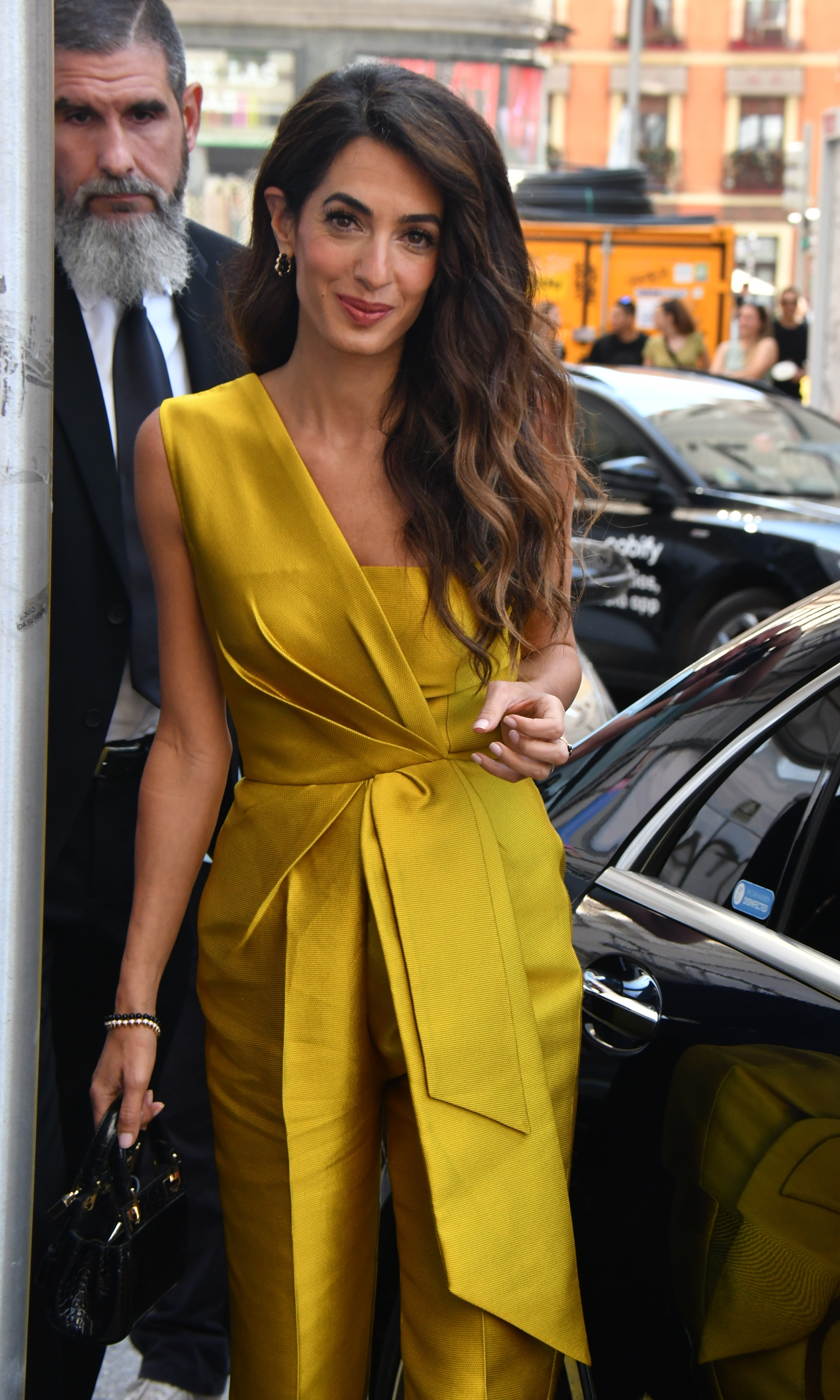 Amal Clooney photographed on June 22, 2023 in Madrid, Spain | Source: Getty Images
The 45-year-old brunette beauty often wears the ring with gold jewelry, long gowns, and sophisticated shift dresses on duty. But there have been specific events where she flashed off the diamond.
Amal showed off her engagement ring in September 2014 at Celebrity Fight Night in Florence. For the occasion, she donned a black strapless dress with gold chandelier earrings and was pictured laughing out loud next to her beloved husband, George, who sported a matching black suit.
In May 2016, her engagement band was on display when she accompanied the BAFTA Award winner on the red carpet at the Cannes Film Festival and wore a yellow Atelier Versace gown.
Also Visit: World News | Trending News | Entertainment News

Anomama