A bride was upset when she saw two guests wearing white at her wedding.
One of her friends posted photos of the women on TikTok, sparking a debate among netizens.
Soon, one of the two guests contacted the bride's friend and threatened to sue her.
Many women dream of wearing the perfect white wedding dress, hoping to look the best on their big day. Once their wedding date is finalized, they first think about their wedding dress. Some women spend months designing dresses that fit them well and make them look gorgeous.
As a result, the bride never wants any of her female guests to steal the limelight by wearing white. It goes without saying that women shouldn't wear white when attending someone else's wedding because that would probably hurt the bride's sentiments.
However, two women decided to break the unsaid rule at Sisi Lozada Aramayo's wedding in Bolivia by wearing white dresses. The bride's friend, Isabella Santos Giha, recorded videos of the two women and posted them on TikTok.
"Two girls wore white at my friend's wedding," she wrote on her video before stating that "the bride got sad." Giha had no idea her video would go viral and spark a debate among netizens.
A guest wearing white at the wedding | Source: tiktok.com/isabellasg3
One of the women in the video wore a white lacey dress. Giha filmed her while she was talking to other guests. Meanwhile, the second woman wore a white dress resembling a bridal gown. She was sitting with her back towards the camera when Giha filmed her.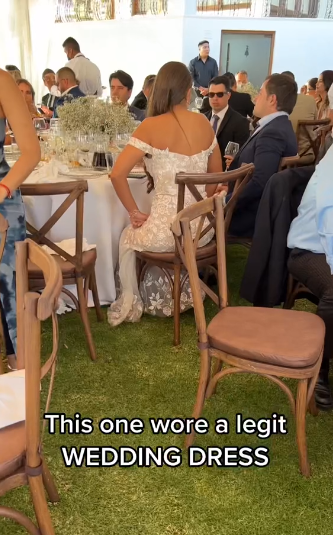 Another guest wearing white at the wedding | Source: tiktok.com/isabellasg3
"Please never wear WHITE at someone's wedding. It is sad and disrespect [sic]," Giha captioned her TikTok video, unaware that one of the women in white would soon threaten to sue her.
What Did the Woman Say?
Four days later, Giha posted another video on TikTok, sharing that one of the two women sent her a message on Instagram. The TikToker said the guest with the long, lacy dress wrote her a detailed text message in Spanish.
The woman told Giha that her dress was not white but "peach with pink undertones." Giha attached a screenshot of the text message as she explained what the woman had written. She added:
"The crazy part is that she wants to now sue me under the US civil rights because, according to her, it's considered defamation."
After seeing her video's response, Giha translated the woman's text message to English and read it to her followers. She wanted everyone to know what the other woman said.
The woman stated that Giha had posted her photo online without her consent and was spreading "false information" because her dress was not white. Moreover, the woman said she was "an educated person" and knew wearing white at someone's wedding was wrong. She added:
"It's a shame that you didn't notice the color of the dress before posting something like this on social media."
The woman advised Gina to be more considerate while posting videos because they might hurt others before stating what she would do next. The woman said what Gina did was "defamation of character, libel, and slander," and she threatened to sue her because of that.
Was the Dress White?
Besides writing a long message, the woman also sent a photo of her dress to Gina, hoping it would clarify her dress's color. The TikToker posted the picture of the dress in another video.
Gina made a collage of the photo of the dress with the shot of the woman she had taken at the wedding. She compared both pictures but couldn't determine if the dress was white or peach. As a result, she asked her fans to decide what the dress's color was.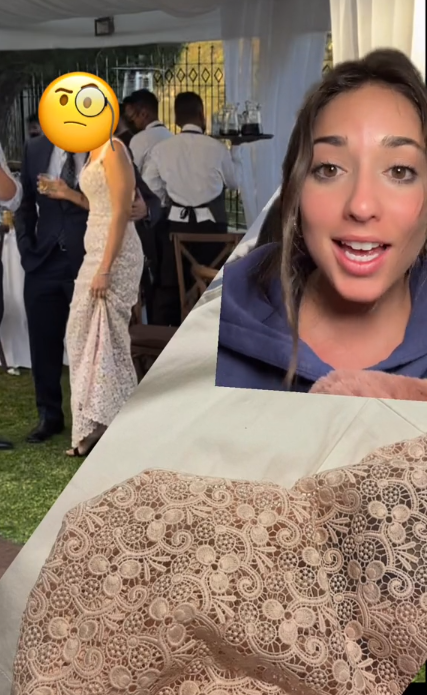 Isabella Santos Giha comparing the woman's dress to the photo she took | Source: tiktok.com/isabellasg3
One netizen said, "Looks off-white/cream, basically another shade of white." Meanwhile, another TikTok user commented on the dress design. She said, "TBH, any pastel LACE dress is gonna give wedding vibes. But this is def like those blush-colored wedding dresses."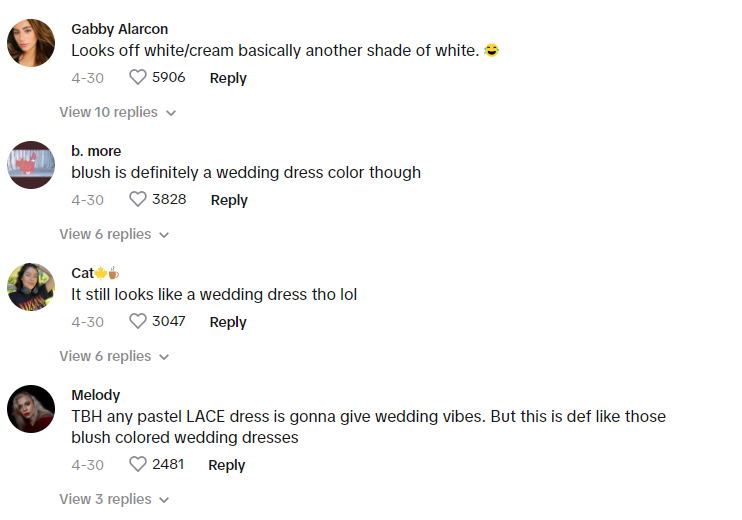 User comments on Isabella Santos Giha's TikTok video | Source: tiktok.com/isabellasg3
A third netizen said, "Peach? Is like beige to me. It still reads bridal. Out of all the colors out there, it's safe to say, 'Don't wear white, beige, or off-white.'" Most people agreed that the woman's dress did look like a bridal gown.

User comments on Isabella Santos Giha's TikTok video | Source: tiktok.com/isabellasg3
What do you think? Is the dress white? Would you have worn this dress to the wedding if you were in that woman's place? We would love to know your thoughts on this situation.
Here is another story about a woman who wore white to her son's wedding because she hated the bride. Little did she know that her son would publicly humiliate her the next day.
Also Visit: World News | Trending News | Entertainment News

Anomama