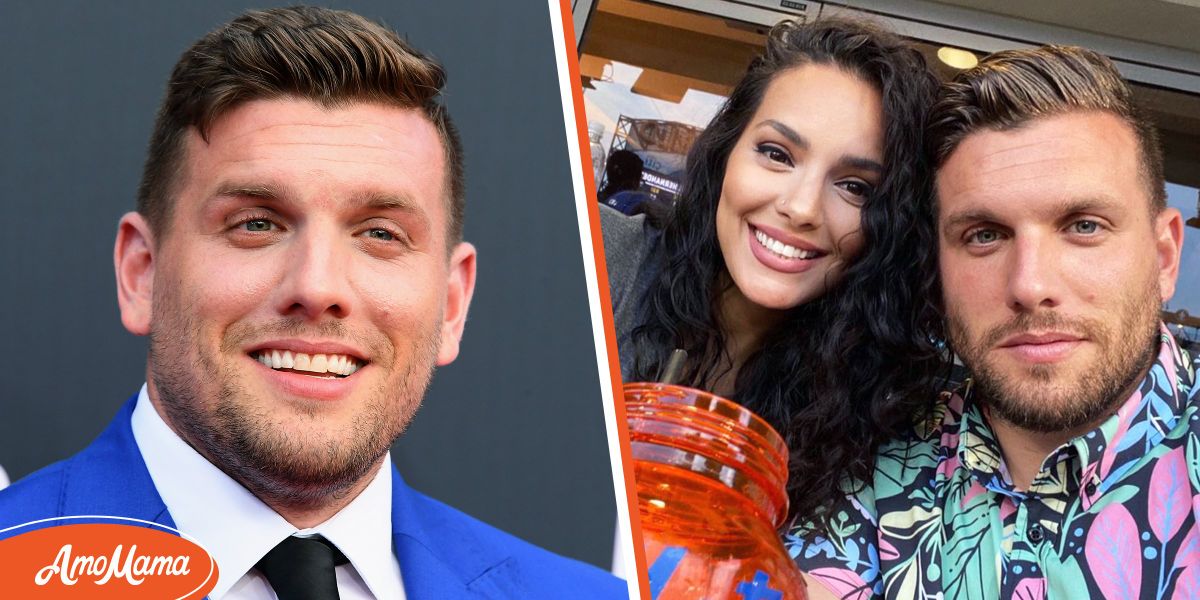 Chris Distefano | Jasmine "Jazzy" Distefano and Her Husband Chris Distefano | Source: Getty Images | Instagram/jazzymethod
Chris Distefano and Jamsin "Jazzy" Canuelas's love story had them quickly and unexpectedly progress from dating to parenthood. While the couple has broken up several times, they found their way back to each other.
Jasmin Canuelas, also known as Jazzy Method, was born on April 17, 1984. In April 2023, Jazzy took to her Instagram account to share photos of herself in Palermo, Sicily celebrating her 39th birthday.
Jazzy said she believed she is aging like fine wine. She recalled thinking in her late thirties that she was old but now believes she experiencing the best time of her life now.
The couple started dating in 2015 when Jazzy worked as a Zumba instructor, and she has since expanded her horizons in the fitness industry, even developing her own bodyweight workout method.
Jazzy Distefano Is a Fitness Instructor and Personal Trainer
Jazzy's passion for fitness developed into a full-time career. She offered in-person Zumba classes, but when the pandemic and subsequent lockdowns swept the globe in March 2020, she adapted her fitness expertise to a virtual platform.
Jazzy launched a YouTube channel where she posted her pre-recorded videos of the live fitness classes she taught during quarantine. Per her bio, the longtime fitness enthusiast described herself as a fitness and spin instructor and a personal trainer.
Moreover, she developed a technique called Bodyweight Training to Music (BTM) to "help control movement and muscle engagement." The benefits of engaging in this workout method are said to include an increase in energy, stamina, muscle, and endurance while simultaneously shedding fat and toning the body.
At the time of this writing, Jazzy had amassed over a thousand subscribers on her channel and was also active on other social media platforms. Her vibrant Instagram account – where she posted workout clips and photos of herself and her family – boasted over 36K followers at the time of publication.
Jazzy Distefano and Chris Met at a Bar, and She Got Pregnant a Couple of Weeks Later
The lovers met at a bar called Place to Beach on Coney Island. Jazzy was enjoying herself and dancing when Chris caught sight of her and decided to approach the Latina woman. As he recounted the story on the "America's Got Talent" (The Mayyas were the 2022 winners) judge's podcast, "Howie Mandel Does Stuff," he said:
"I walked up to her […] and I was like, 'I'm a Salsa instructor,' and she was like, 'Do a move.' And I was like, 'I have a kidney issue.' And she was like 'You have a kidney issue?' And she started laughing and was like 'you're an idiot,' and I was like 'si.'"
The funny interaction marked the first of a long-lasting relationship. At the time, Jazzy told the comedian that she was seeing somebody; however, a week later, she found him on social media, contacted him, and they had their first date.
They had an intimate night after their second date, and that's when Jazzy became pregnant with their first child together. After discovering that she was with child, she flew to Tampa, Florida, where Chris was doing a show at a comedy club called Side Splitters.
Chris was happy to see Jazzy, whom he said was downing numerous shots by the time he was done with his set. They left for his room soon after, and when they arrived, Jazzy went to the bathroom, where Chris thought she was undressing.
Chris was excited about what he thought would be another intimate night, but when Jazzy came out, she was fully clothed and carrying a positive pregnancy test. She showed Chris and told him that that was why she had come to see him and that she wanted an abortion.
Jazzy asked for Chris's support while she underwent the process but thought it was best they ended their relationship afterward. She told him she already had a son from a previous relationship, and Chris respected his wife's then-desired choice.
He even offered to pay for the medical procedure and to provide emotional support, but he also assured her that if she decided to keep the baby, he would be a present father. Chris was 30 then and had come to that conclusion because he felt his life and career were progressing steadily. And so he and Jazzy agreed to become parents.
A Look into Chris and Jazzy's Relationship
On January 3, 2023, Jazzy and her husband appeared together on his YouTube channel. Speaking about the past eight years of their relationship, Chris mentioned how statistically they weren't expected to last because they had their first child almost immediately into their relationship.
He also admitted that they used to have a lot of problems and completely broke up several times with Jazzy opting to start another relationship for two years. Jazzy's spouse thought their experiences were good lessons that have kept them going.
During his Valentine's Day show in 2023, his wife joined him again for the special episode where they spoke about their relationship, their family, and their children.
While the chemistry between them is quite evident, Chris also teases her on his Instagram account.
One such instance was in July 2023, when he hilariously photoshopped her face onto "Rizzoli & Isles'" Chazz Palminteri and vice versa, calling his new creation "Jazz Palminteri!"
When the comedian isn't taking digs at Jazzy, he shares photos and videos of their travels to beautiful locations.
In April 2023, he uploaded footage of them bonding on a trip to Sicily, Italy with a funny caption that reads, "Really enjoying Syracuse."
Later in October, Jazzy shared an Instagram clip showing all the places she and Chris visited. In the post's caption, she revealed that they visited three countries and four cities in one week!
Jazzy Distefano Has Three Children, and Two of Them Are Biologically Chris's
Chris's first child with Jazzy is a daughter whom they named Delilah, as per his 2016 Facebook post. She was born sometime in 2015, followed by her younger sister, Violette Luna, welcomed in June 2021. Jazzy's first baby is named Tristan Rega and he was three years old when she met Chris.
By this year's end, Tristan will be 12. During a March 2021 Chrissy Chaos show, Jazzy's husband expressed how he felt about his stepson when he mentioned how everyone loves Delilah and Tristan. Speaking honestly, he confessed that when he first became a stepfather he struggled with it.
The comedian said there would be times he'd arrived home and would hug Delilah and unintentionally neglect Tristan. Sometimes he even came home with thoughtful gifts for his first daughter, neglecting the boy.
However, through his friend, he learned that the connection for the children was between them because Delilah and Violette were both Tristan's sisters. Since then, Jazzy's husband sees all his children as equals, as he said:
"I would jump in front of a bullet for Tristan and Delilah."
Sharing a funny story about him and his stepson, Chris recalled one day when he came home and body-slammed the little boy. Tristan questioned his actions asking him if he was allowed to do that because "you're not my dad."
Also Visit: World News | Trending News | Entertainment News

Anomama