Pippa Middleton was rumored to be dating Prince Harry after their siblings' wedding. She wished to live a simple life and become a mom after her current spouse proposed. Pippa and her husband just welcomed their third child with a name claimed to have a connection with Prince Harry's daughter.
English socialite Pippa Middleton, Kate Middleton's younger sister, celebrates her 39th birthday on September 6, 2022. Pippa is one year younger than her older sibling.
In their youth, the sisters used to be roommates and lived together in a flat on Old Church Street in Chelsea. In July 2014, Pippa told the "TODAY" show about the bond she and Kate have as siblings despite the Duchess of Cambridge being a royal bride.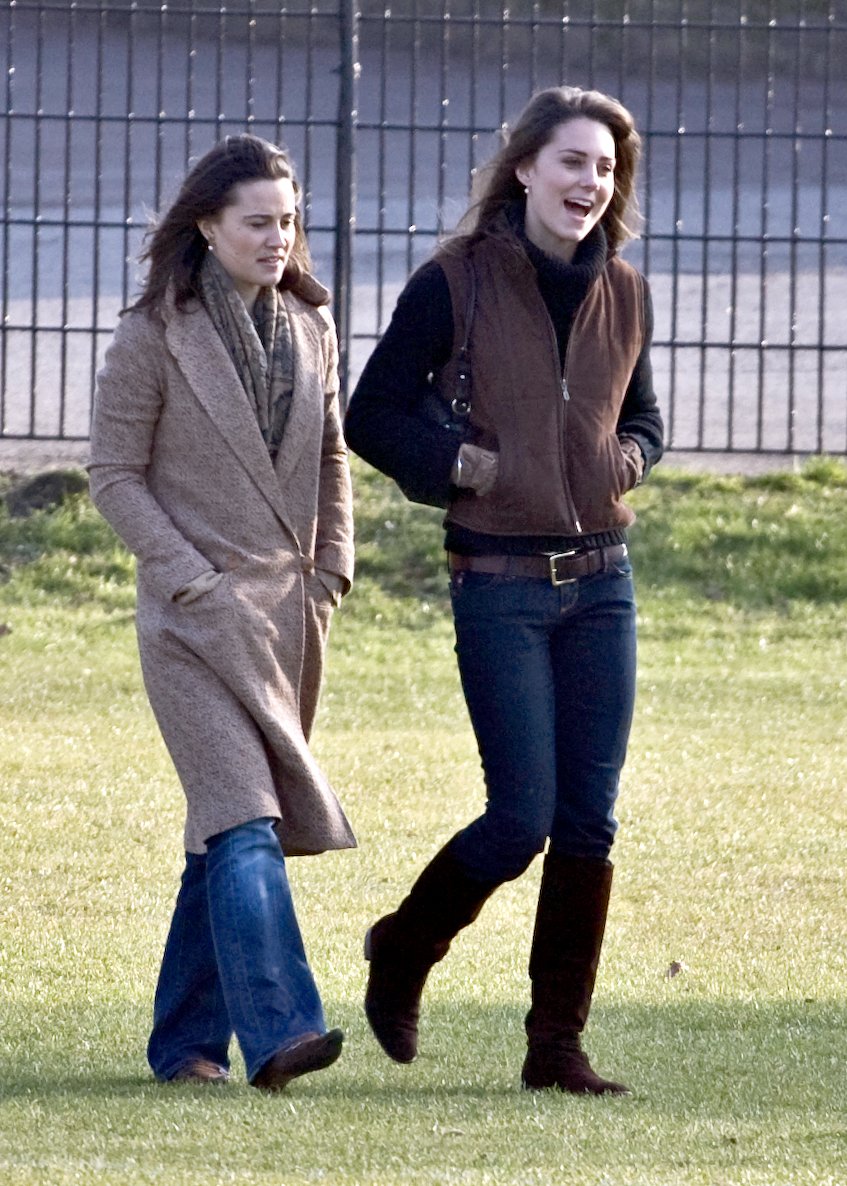 Kate Middleton pictured walking with her sister Pippa Middleton at Windsor after watching a rugby match on Marcg 18, 2007┃Source: Getty Images
"We still spend a lot of time together. We have a very normal sisterly relationship, and we're very close," Pippa revealed. When Kate and Prince William, now the Duke of Cambridge, split in 2008, Pippa was there for her big sister.
Now, just like the Duchess, she is also a mother of three (her youngest child was born just recently) and has a loving spouse. However, when Kate married the prince, Pippa might have had a chance to be the future king of England's sister-in-law.
Pippa Stunned Watchers at Her Sister's Wedding
Prince William and Kate rekindled their romance in 2011 and walked down the aisle in a beautiful royal wedding that same year on April 29. It was the period when Kate's sister became widely known as all eyes were on her while serving as the Maid of Honor.
Pippa arrived at the Westminster Abbey in a neckline plunging, form-fitting, ivory gown that featured the same button detail and lace trim as the bride. The garment, designed by Sarah Burton, was courtesy of Alexander McQueen.
The columnist stole the show while carrying Kate's cathedral-length train, as, within minutes of the arrival, there was an instant social media craze over her look.
Kate Middleton with Pippa Middleton as her Maid of Honor holding her dress before walking into Westminster Abbey to attend the royal wedding on April 29, 2011 in London, England ┃Source: Getty Images
Pippa, donning her white sheath dress that highlighted her figure at the time, gained royal admirers who watched the ceremony. People began taking notice of her from that day.
Per the Daily Mail, Pippa was dubbed "her royal hotness" after that. However, Pippa's gown was not the only topic of discussion because of its appearance.
It sparked rumors of an alleged romance between her and Prince Harry, now the Duke of Sussex. Body language expert Judi James analyzed the pair's interactions and found that people were far off in terms of being an item.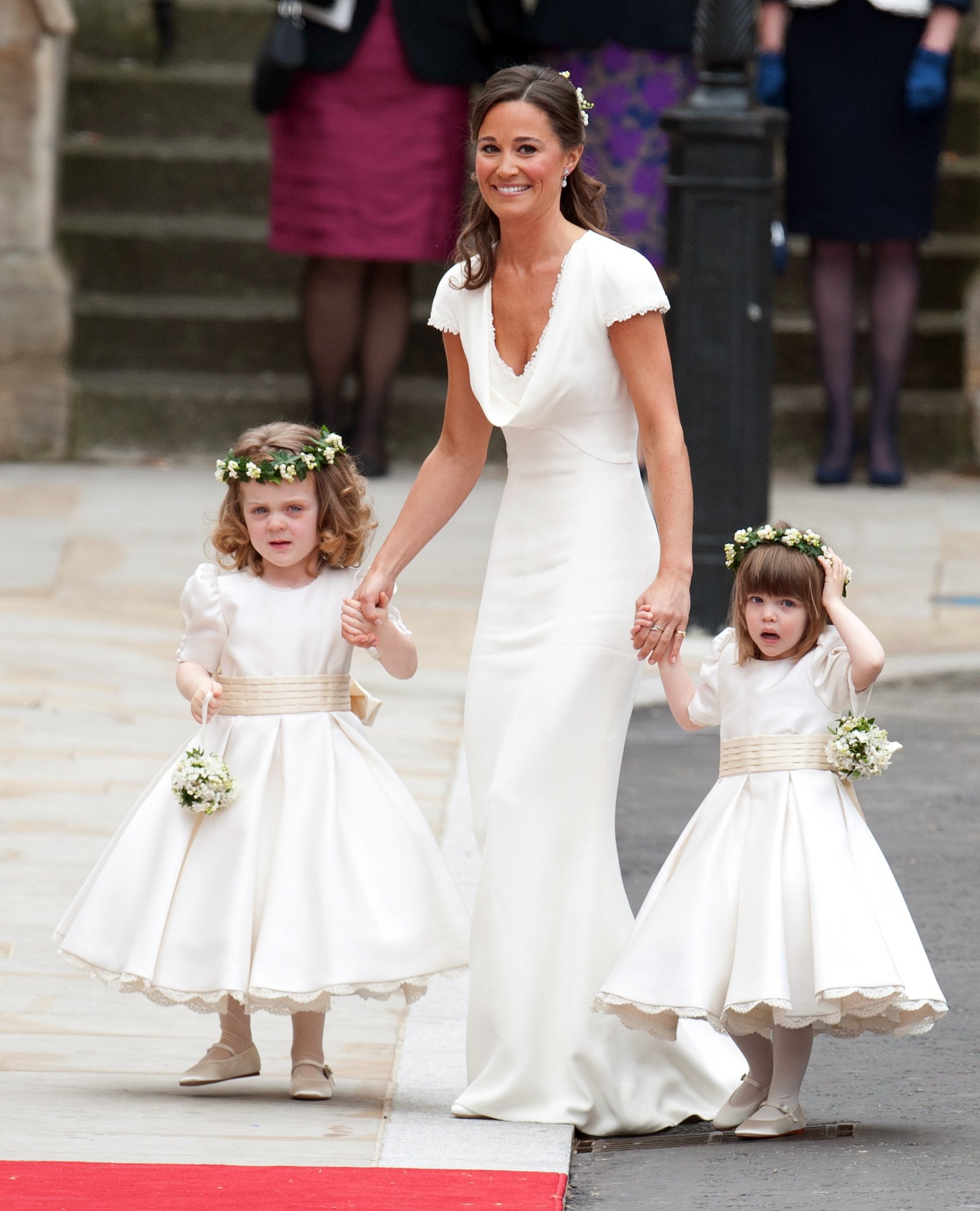 Page boys and bridesmaids arrive at Westminster Abbey escorted by Pippa Middleton before Kate Middleton and Prince William's wedding ceremony in London┃Source: Getty Images
James told Express.co.uk that the relationship between Pippa and Prince Harry was different from what the public perceived it to be because of how he and his older brother behaved toward each other:
"When Pippa Middleton appeared on the world stage wearing that dress to that wedding, it was assumed that she and Kate shared a similar relationship to brothers William and Harry."
"Kate Middleton always looked like the more careful and slightly formal older sister to Pippa's fun-loving younger sibling. This assumption of mirrored dynamics even led to rumors of a relationship between Harry and Pippa, who appeared matched in their love of socializing and sharing a joke," James continued to explain.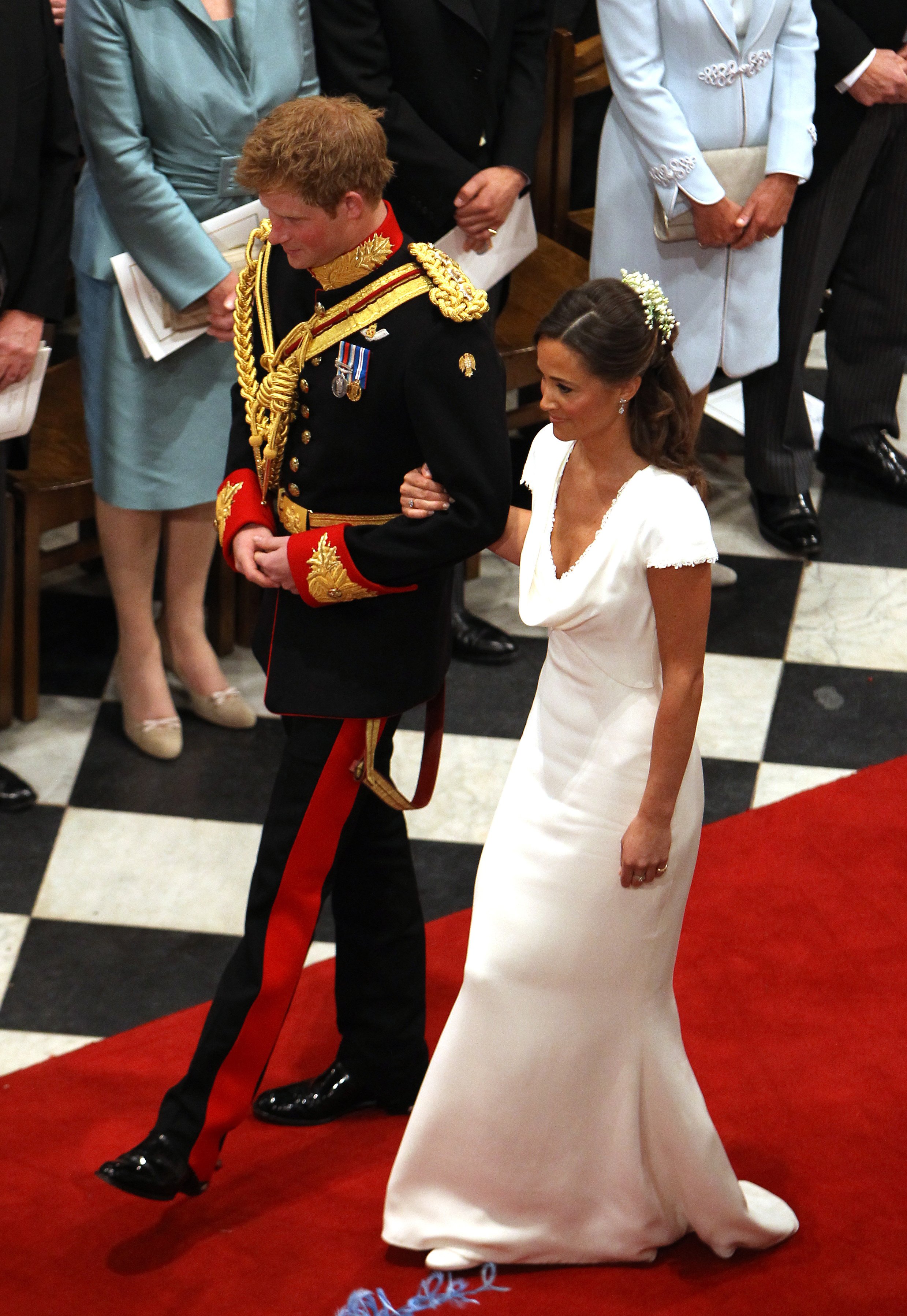 Prince Harry and Pippa Middleton photographed walking down the aisle in Westminster Abbey, during the wedding ceremony, on April 29, 2011, in London ┃Source: Getty Images
Soon after Prince William and Kate tied the knot, people questioned whether Prince Harry and Pippa would follow suit following their interaction at the nuptials.
Per CNN, there were speculations that the duo called each other using nicknames. Pippa reportedly called the prince "Captain" because of his military rank, while he, in turn, called her "Commando," as she supposedly did not wear any underwear at their siblings' wedding.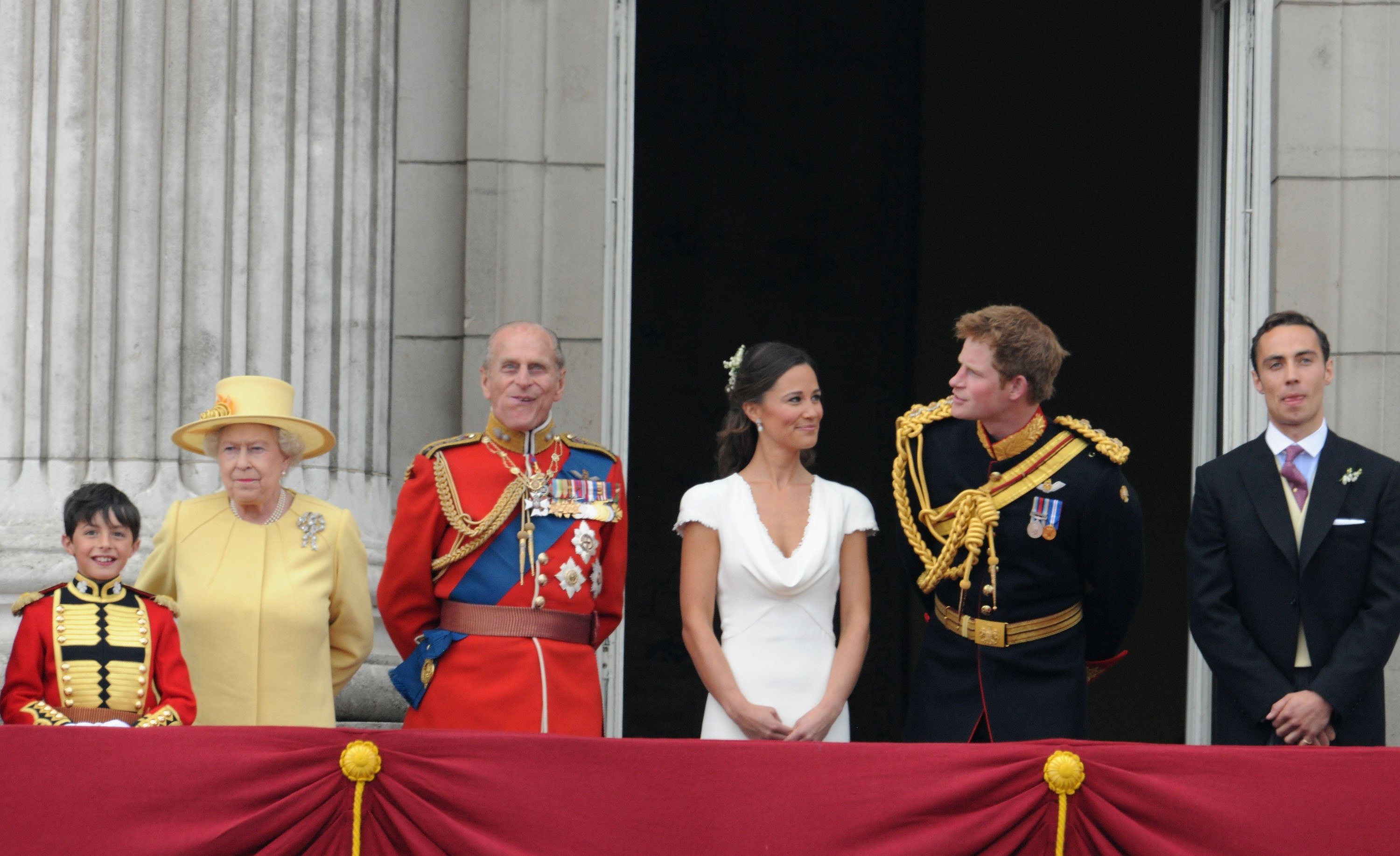 (L-R) Master William Lowther-Pinkerton, Queen Elizabeth II, Prince Philip, Pippa Middleton, Prince Harry and James Middleton look at the crowds from the balcony of Buckingham Palace following a royal wedding on April 29, 2011 in London, England ┃Source: Getty Images
The two allegedly helped each other during their respective breakups at the time and met up quite often, including chatting online. In addition, Prince Harry reportedly said Pippa should "call" him after making his best man speech.
Notably, although it turned out that Pipp and Prince Harry were merely good friends, she soon became close to her future husband and now the father of her kids.
Pippa Found Her Future Spouse after Her Sister's Wedding
A year after her sister's wedding, Pippa was spotted with former professional race driver James Matthews at a London restaurant in October 2012. He is also a former Eton pupil and serves as a chief executive of Eden Rock Capital Management Group.
Matthews and Pippa went out on a few dinner dates, and their pals claimed their relationship was going "from strength to strength" following several date outings. For four years, it was unclear whether they were dating or not because they were on and off.
However, People reported in January 2016 that the lovebirds had reconciled their relationship and spent more time together. When Pippa went on a New Years' vacation in St. Barts with her brother, James Middleton, Matthews joined the siblings on the trip.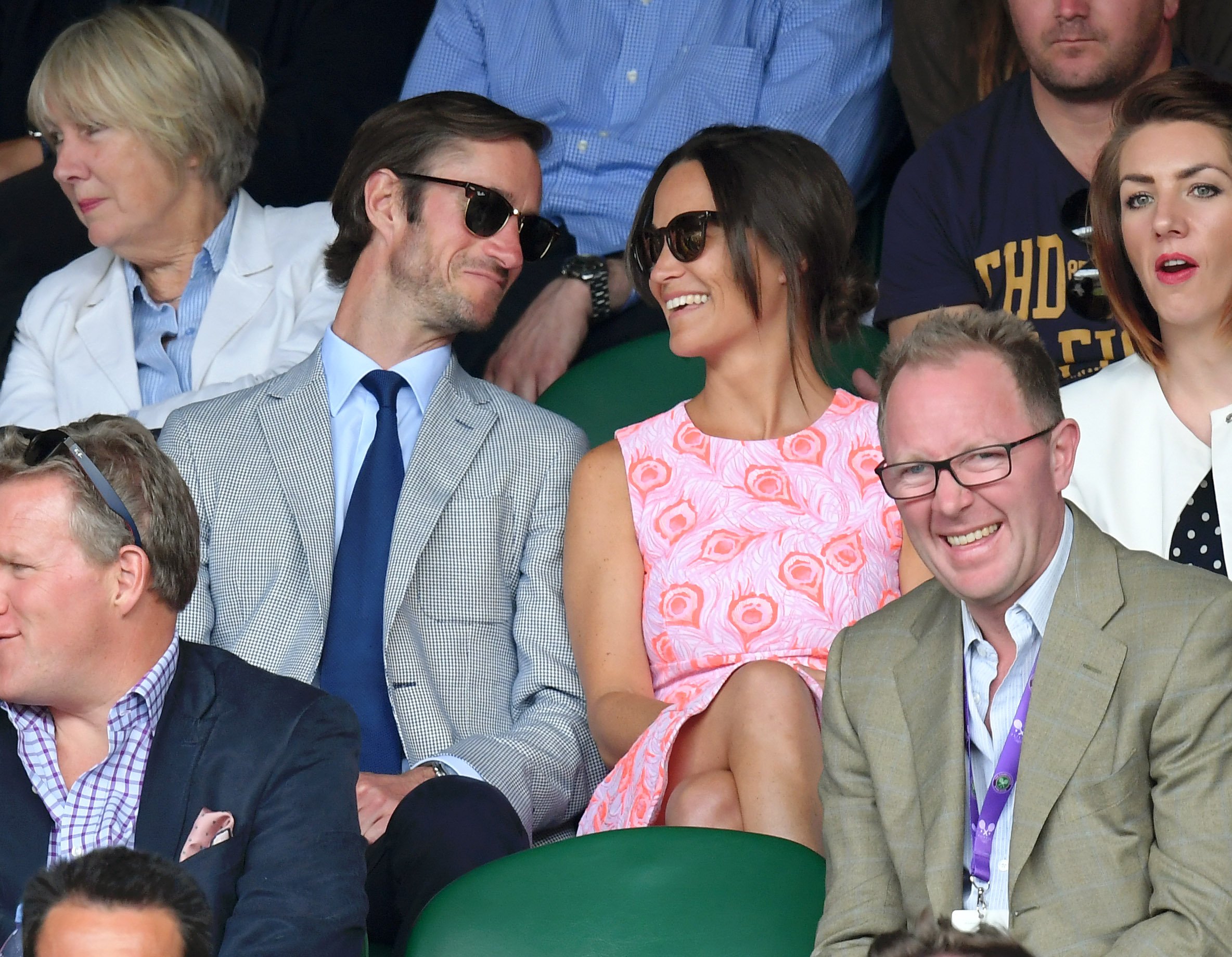 Pippa Middleton and James Matthews attend day nine of the Wimbledon Tennis Championships at Wimbledon on July 06, 2016 in London, England ┃Source: Getty Images
Per the publication, he was also present for a festive holiday concert on December 2, 2015, having joined Pippa, Prince William, and her mother, Carole Middleton, at the said event.
In 2016, Matthews and Pippa officially started dating, and he proposed the same year. The couple was strolling in Lake District, enjoying the breathtaking views, when Matthews got down on one knee and took out a stunning diamond ring from his pocket.
He asked the brunette beauty to marry him, and per the Daily Mail, it only took a moment for Pippa to say "yes" to his proposal. In December 2016, People revealed that wedding planning was underway but that the pair intended to keep specific details under wraps because they wanted to have a private ceremony.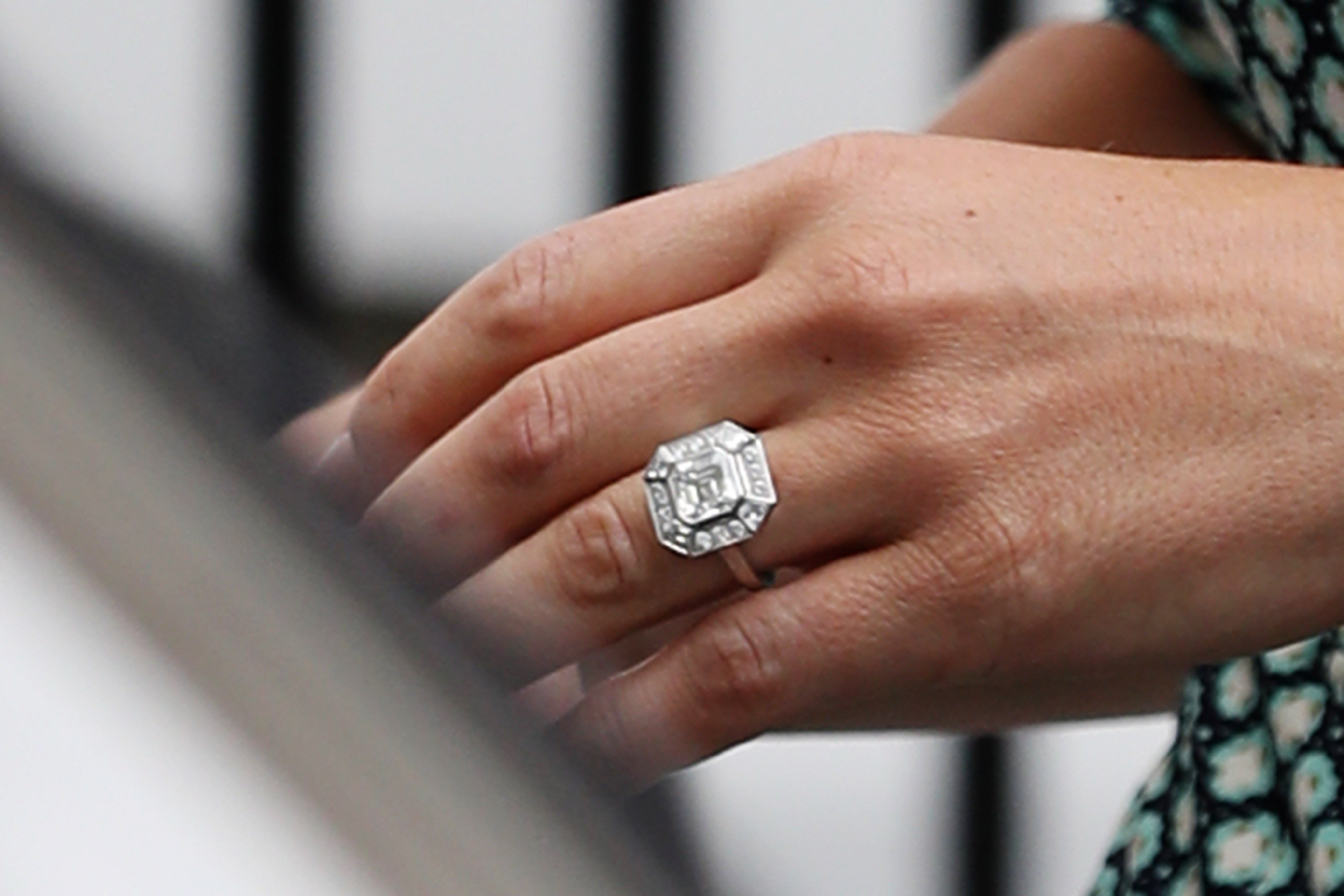 Pippa Middleton's ring captured as she leaves home on July 21, 2016 in London, England ┃Source: Getty Images
An insider told the publication that Pippa and Matthews had a "deep desire" to live a "quiet life" away from the limelight for the long haul, adding they were looking forward to settling down and "having children and leading a quiet life."
The couple soon wed in Englefield, England, on May 20, 2017, in what they reportedly deemed their "dream" wedding. People reported that although it was not a royal wedding, the ceremony was just as the bride had imagined.
"This is the wedding Pippa and James dreamed of," disclosed the insider. "They wanted it to be a private family wedding at home in the beautiful countryside with their closest friends and family," the source explained.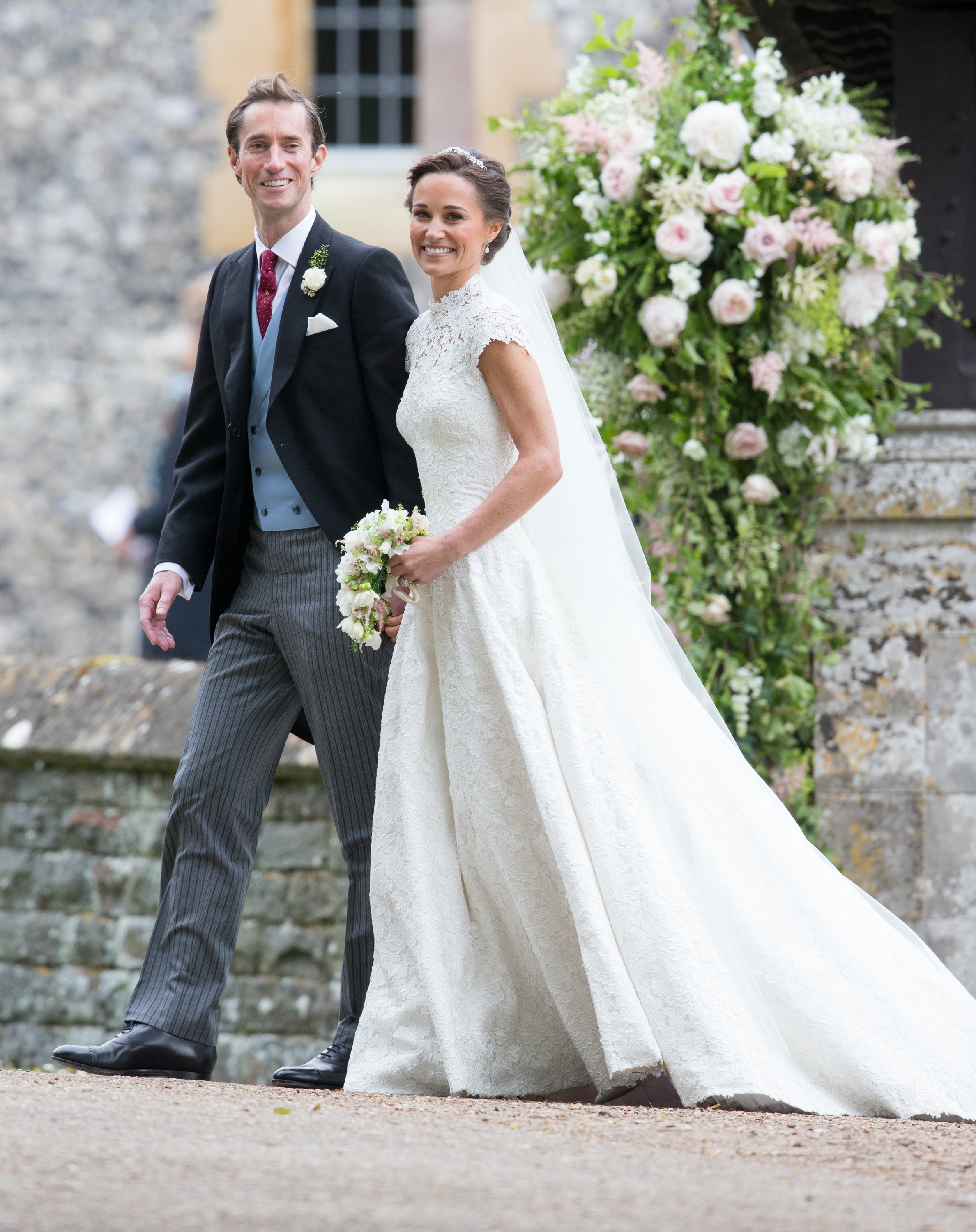 Pippa Middleton and James Matthews pictured leaving after getting married at St Mark's Church on May 20, 2017 in Englefield Green, England ┃Source: Getty Images
The bride wore a custom-made dress by British designer Giles Deacon. Pippa's nephew Prince George served as a page boy, while her niece Princess Charlotte served as a bridesmaid. Her beloved sister Kate recited a prayer during the service at St. Mark's Church in Englefield.
The ceremony included 150 guests, and the midday reception was held at the nearby Englefield House. They celebrated the evening under a glass palace erected at the Middleton family property for the couple's big day.
Three hundred fifty guests at the evening reception included Prince Harry and his wife, Meghan Markle, the Duchess of Sussex. One of the guests, Gemma Billington, said the event was "wonderful" and "memorable."
Pippa & Matthews Are Proud Parents of Three Kids
In October 2018, the newlyweds welcomed their first child together, a son named Arthur. Pippa followed in her sister's footsteps by giving birth in the Lindo Wing of St. Mary's Hospital, Paddington – where Kate had her three children.
At the time of their son's birth, Matthews and Pippa kept details of their newborn under wraps, whom they also gave middle names, Michael and William.
The name Michael is a tribute to Pippa's father and Matthews' younger brother, who tragically died while climbing Mount Everest in 1999.
The married couple welcomed their second child – a daughter – in March 2021 and named her Grace Elizabeth Jane. Grace shares her middle name with her aunt Kate, whose full name is Catherine Elizabeth Middleton.
In addition, the youngster also shares the same name with her aunt's grandmother-in-law, Queen Elizabeth II. At the time of the new addition's arrival, the Duke and Duchess of Cambridge were said to be "overjoyed" by the news of Grace's existence.
Pippa and Matthews welcomed their third child, another daughter, in June 2022. The pair named their baby girl Rose, a word derived from the Latin word "rosa," referring to the flower.
Rose has a connection to the Sussexes' daughter Lilibet – who also has a flower-inspired name. Markle and Prince Harry named their second child after his grandmother (Lilibet was the monarch's childhood nickname), but the royal couple calls their daughter Lili.
Lili's name has another special meaning as the former actress's mother, Doria Ragland, called her "Flower" when she was little.
Moreover, 39-year-old Pippa lives without a Duchess title like her sister Kate (who is the future Queen) but is likely to inherit a Scottish title through marriage.
Her husband will likely inherit the estate one day, and when that day comes, he will be known as Laird of Glen Affric. Subsequently, his wife would become Lady of Glen Affric.
In the meantime, they are eligible to go by Mr. Matthews of Glen Affric and Mrs. Matthews of Glen Affric. However, the couple prefers just Mr. and Mrs. Matthews.
Also Visit: World News | Trending News | Entertainment News

Anomama