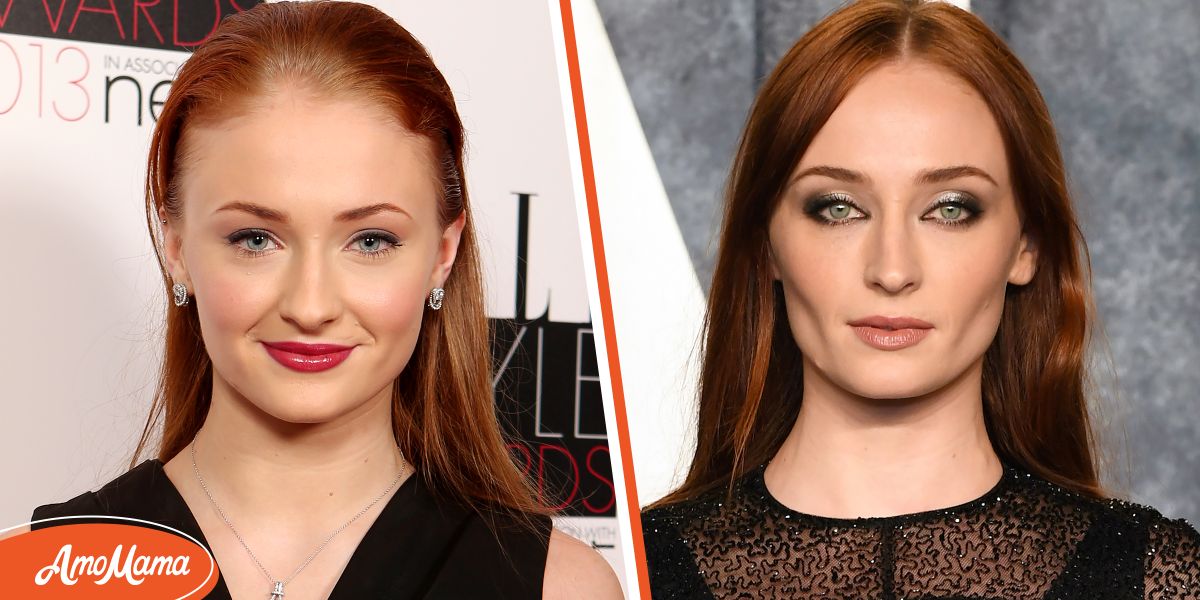 Sophie Turner's plastic surgery allegedly involved buccal fat removal. However, some fans believe puberty changed her appearance and she hasn't gone under the knife.
Sophie Turner rose to fame for playing Sansa Stark on the hit television show "Game of Thrones." She was still a child when she first appeared on-screen and has blossomed into a wonderful woman and mother.
However, Turner became the subject of plastic surgery rumors after her face slimmed down in recent years. Twitter has been divided about her physical appearance.
Sophie Turner's Plastic Surgery Rumors Swirl on Social Media
Turner's plastic surgery rumors appeared on Twitter in 2022, with some fans claiming she had buccal fat removal. The gossip carried over in 2023 as fans shared their sentiments online. One Twitter user said her alleged procedure made her look much older, while another agreed that Turner was better with fuller cheeks.
Meanwhile, some people believed Turner did not have buccal fat removal and simply aged and lost weight. Naturally, the fat disappeared, and her cheekbones became more defined. One tweet read:
"Sophie Turner has always been skinny. When she was introduced to the world, she was a CHILD with baby fat on her cheeks still. Now she's a woman who has gone through puberty, pregnancy, and all."
Sophie Turner's Husband Admitted to Using Injectables
While Turner never commented on the allegations, her husband, Joe Jonas, admitted using anti-wrinkle injections for his frown lines. He claims a stigma exists with men getting injectables, which he wants to break by openly discussing his skincare.
While it is not something he does every day, Jonas incorporates other products into his routine, including a Facial Fuel and Eye Fuel from a trusted skincare brand.
Sophie Turner Struggled with Her Appearance
In a previous interview, Turner admitted that she struggled with her appearance because of the negativity she would receive online. Admittedly, she was sensitive to what she would see on social media, especially when she was younger. She particularly didn't like comments about her weight and skin.
She often consumed the negativity and believed what people said. Negative comments also made her feel more conscious, especially about her angles on camera. She also didn't socialize much amidst filming for "Game of Thrones" and stayed in her room.
As years passed, Turner learned to be more confident. She also had help from her sister-in-law, Priyanka Chopra, who is 13 years her senior. Turner shared Chopra's response after asking where she gets her confidence:
"Well, of course, I'm insecure about bits and bobs, but if you want to get the reaction that you want to get, you have to walk into that room and be confident, and walk into that room and own it."
She also credited Jonas for helping her through her lowest time. Turner had been mentally struggling when she met the Jonas Brothers singer. According to the actress, Jonas told her he couldn't be with her until she learned to love herself. "I can't see you love me more than you love yourself," he added.
In 2022, Turner deleted Instagram from her phone and tried to distance herself more from social media. Fortunately, the experience has been helpful for her wellbeing.
Turner recently made headlines after announcing her divorce from Joe Jonas, with whom she shares two children. While the reason for their split is not known, the two have been living miles away due to work commitments. Fans who recently saw her claim she does not look well.
Also Visit: World News | Trending News | Entertainment News

Anomama