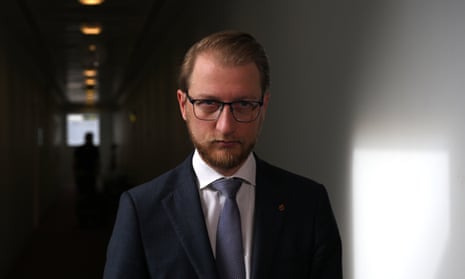 'Absolutely absurd': lawyers criticise opposition proposal to re-detain immigration cases
James Paterson refuses to back Peter Dutton's plan to send people back to immigration detention but pushes alternative method of jailing them
The federal opposition's home affairs spokesperson, James Paterson, has refused to back Peter Dutton's suggestion the government could simply re-detain 93 people released from indefinite immigration detention after a landmark high court ruling.
But the Liberal frontbencher's alternative proposal – to use terrorist-style preventative or continuing detention orders – has been lashed as "absurd" by leading lawyer Greg Barns SC who claimed there was no evidence any of the released detainees were at high risk of reoffending.
The home affairs minister, Clare O'Neil, said on Sunday that the high court ruling made it "abundantly clear" Labor could not simply send the group back into immigration detention.
"Anyone with a basic understanding of the legal system in this country would know that what Peter Dutton has been running around the parliament this week saying the government should do is utterly impossible for us to do," O'Neil told Sky News.
"It is incumbent on me as minister, like anyone else, to follow the law."
O'Neil said new laws passed on Thursday would need "refinement" once the high court publishes its legal reasoning for the NZYQ decision. She said the decision could force the government to "rethink the management of immigration detention".
The minister on Sunday also flagged other detainees from a cohort of 250 could be released beyond the 93 freed to date.
O'Neil said her department had advised the commonwealth it was likely to win the high court case before the legal defeat. She said suggestions from the opposition to simply re-detain people was "not possible and I know that Peter Dutton knows that".
"We have here a full high court decision that tells us that the Australian government cannot detain people on the basis that was occurring before."
Despite the government capitulating to the Coalition and agreeing to all its proposed amendments for extra conditions on people released after the high court's decision, the opposition has continued to attack Labor.
In a 2GB interview on Thursday, Dutton said he believed the government had the power to hold those who had been released but were "refusing to do it".
Asked on the ABC's Insiders program about Dutton's suggestion that the cohort could be put back into immigration detention, Paterson declined to endorse that view on three occasions.
He instead said the government "should investigate all lawful options" and flagged "the high-risk terrorist offenders regime as a possible solution to this problem".
"That includes things like preventative detention orders, continuing detention orders, extended supervision orders and control orders, and the government was not ready and they did not do that," Paterson said. "Those could have been used to detain, at the very least, the highest risk among this cohort of now 93 peopled."
But Barns, a spokesperson for the Australian Lawyers Alliance, dismissed Paterson's suggestion regarding preventative or continuing detention orders, calling it "highly concerning".
"What's being forgotten by politicians and much of the media is that these individuals have served their sentences, and in some cases, and in cases I'm aware of, they've been assessed by prison authorities and courts as being relatively low risk of reoffending," he told Guardian Australia.
"To equate them with persons convicted of terrorism offences and back in the community is absolutely absurd."
Barns acknowledged the serious nature of crimes committed by some of the cohort, including murder and child sex offences, but said Australians released from prison after such convictions rarely were subject to indefinite monitoring provisions.
"That's quite unremarkable. It's how our system works," he said. "There's no suggestion or evidence [the released detainees] are high risk … there might be some who are, but there are ways of doing that for prisoners every day."
David Manne, the executive director at Refugee Legal, said governments already had wide-ranging powers to place release conditions on detainees even before the new laws were rushed through on Thursday.
"Any calls for even more draconian measures seem to be based on the idea that all these people released pose a serious risk, without any evidence produced," he said.
Manne stressed the high court's ruling was that the group should not be indefinitely deprived of their liberty, with the cohort including people who had served sentences and would ordinarily be released into the community.
Explore more on these topics
Also Visit: World News | Trending News | Entertainment News

SC: Guardian