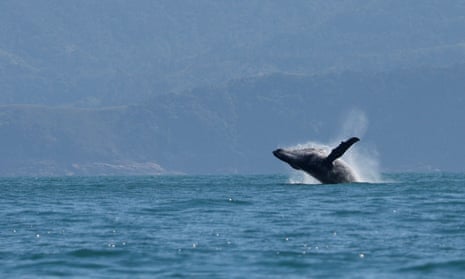 Bolsonaro under investigation for 'harassing' humpback whale
Man resembling Brazilian ex-president seemingly spotted on a jetski about 15 metres from distressed mammal
Federal police are investigating Brazil's former president, Jair Bolsonaro, for yet another suspected misdeed: "harassing" a humpback whale while taking a public holiday spin on his jetski.
Bolsonaro's anti-environmental policies earned him the nickname "Captain Chainsaw" during a four-year administration characterised by soaring destruction of the Amazon. But the far-right ex-president's latest suspected environmental offence reportedly occurred in the waters off Brazil's south-eastern coastline near the town of São Sebastião.
It was there in June that a man resembling Bolsonaro was seemingly spotted – and filmed – about 15 metres from a humpback whale that had surfaced.
"The man, thought to be Bolsonaro, was shooting a video with a mobile phone as the whale performed aerial behaviours suggesting distress or discomfort," the news website iG reported.
Brazilian legislation outlaws "the deliberate harassment of any species of cetacean" such as dolphins or humpback whales, which are called baleias jubarte in the South American country.
According to rules enforced by the environmental agency Ibama, vessels with their engines running must not come within 100 metres of such animals. Seafarers are also forbidden from chasing or invading the space of pods of dolphins or whales, or making "excessive noise – such as music, any kind of percussion or other [sounds] … within 300 metres of any cetacean".
Another rightwing politician was recently fined 2,500 reais (£410) for committing a similar offence in the same region. Just over a decade ago, Bolsonaro himself was fined for illegal fishing within a marine reserve off the Rio de Janeiro coastline. As president, critics accused him of deliberately dismantling environmental protections with catastrophic consequences for nature.
One year after losing power, Bolsonaro is facing a multitude of investigations into suspected crimes, including plotting a coup against his leftwing successor, Luiz Inácio Lula da Silva, misappropriating expensive jewels and faking Covid vaccination records. Some believe the politician, who has been banned from seeking election until 2030, could eventually end up in jail.
On Saturday, the ex-president dismissed the humpback whale inquiry as another example of political persecution from Brazilian politicians and environmentalists. "Every day they accuse me of some kind of mischief. Yesterday it was hounding whales," Bolsonaro told supporters, before making a disparaging remark about Brazil's justice minister, Flávio Dino, whom he likened to a whale.
Bolsonaro supporters made fun of the aquatic allegations on social media, with one claiming the humpback must have been a fan of the former president who stopped him to request a selfie.
Explore more on these topics
Also Visit: World News | Trending News | Entertainment News

SC: Guardian