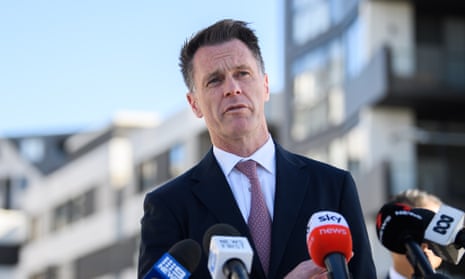 Chris Minns insists NSW can have quantity and quality when it comes to new housing
Construction watchdog to be given tough new powers to inspect homes under construction and order defective work to be fixed
The New South Wales premier says major builders support his decision to grant the state's construction watchdog a dramatic expansion of powers, including the ability to inspect houses and apartments under construction and order defective work to be fixed.
The building commissioner, David Chandler, will be granted the powers under draft legislation expected to pass parliament this week.
Chandler's role was created in 2019 by the Coalition government after cracked apartment buildings including Sydney's Opal Tower and Mascot Towers exposed the low quality of new builds and a poor compliance system.
The premier, Chris Minns, announced the commissioner's new powers on Sunday. The premier said he had considered how to reconcile tighter regulations for the construction sector with the state's target of building 75,000 new homes a year.
"I have spoken to all of the big developers and builders in NSW … and they say that for the first time someone has come along to drive the rogues out of the industry," he said.
"We're building confidence in the sector and I want people to understand this as the other side of the coin when it comes to density and more housing – we are not going to let quantity be the enemy of quality in NSW."
The legislation, which the government expected to pass with the support of the Coalition and crossbench, would also introduce measures to penalise so-called phoenixing in the construction industry – whereby companies create new entities to illegally avoid paying debts.
The government has this year cancelled the licences of four building certifiers who were found to have engaged in unsatisfactory professional conduct.
It allocated $24m in the recent state budget to set up the NSW Building Commission and hire 400 staff to help Chandler weed out dodgy builders.
Chandler on Sunday said there had been some "shocking" shortcomings in the quality of construction across the state but he wanted to work with the sector.
"I believe we need at least another 50 builders and developers every year coming into our industry," he said.
The government last week announced it would develop a pattern book of endorsed housing designs for both low-rise and mid-rise buildings of up to six storeys to speed up planning approvals and get more homes built more quickly.
It will hold an international competition in 2024 for architects and architecture schools, with the winning designs to be included in the pattern book.
Explore more on these topics
Also Visit: World News | Trending News | Entertainment News

SC: Guardian