Stay informed with free updates
Simply sign up to the Climate change myFT Digest — delivered directly to your inbox.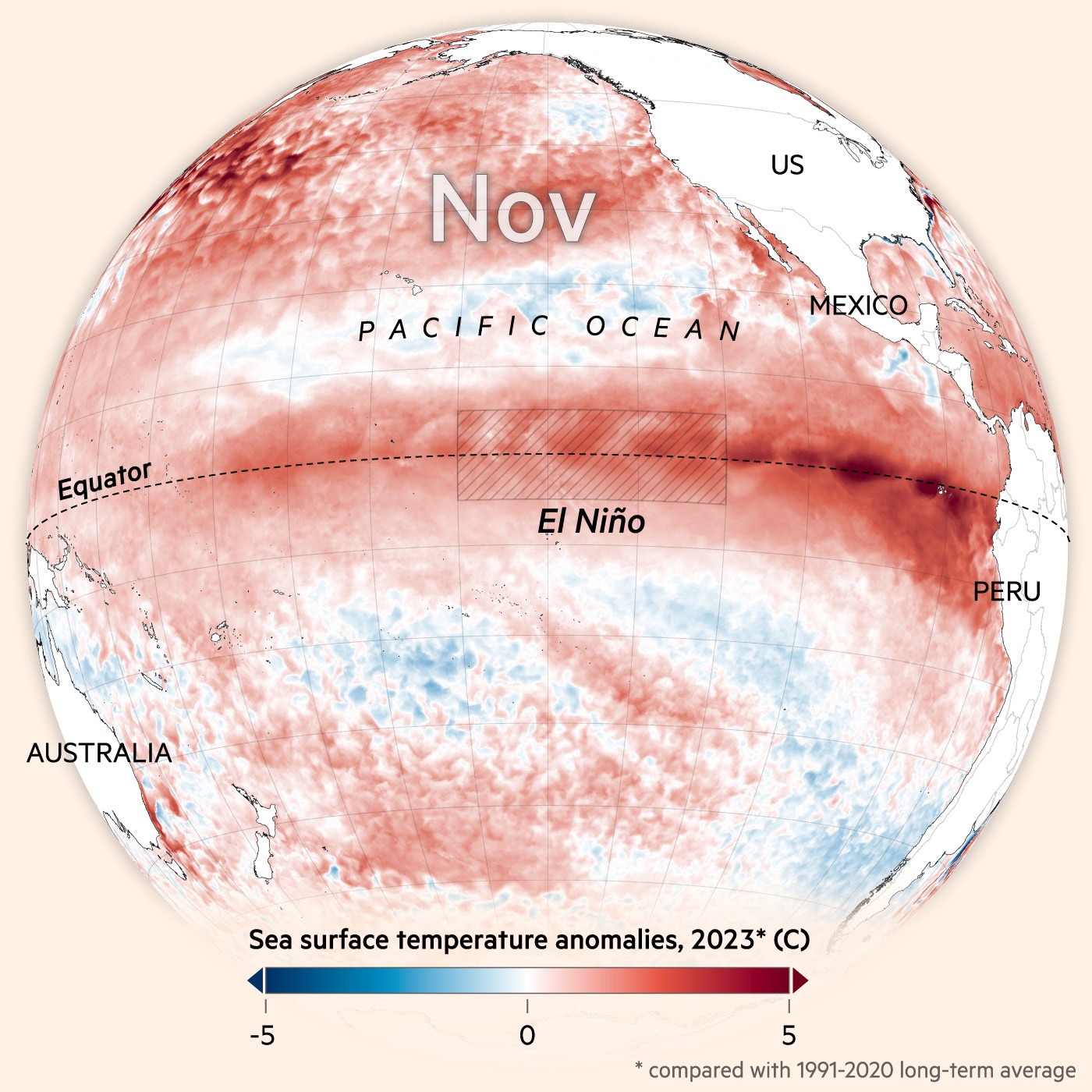 The cyclical El Niño effect which helped put the world on track for a heat record this year and is continuing to exacerbate and interfere with weather patterns will persist into 2024, scientists say.
The naturally occurring warming effect in the Pacific Ocean can cause global temperatures to rise in the short term and wreak havoc on crop yields in some parts of the world. Companies in various sectors, including food and transportation, have warned about the disruption to commodities and supply chains, as well as higher insurance risks.
In Brazil, where it is still spring, the National Institute of Meteorology issued a red alert for heat in the past week across several regions.
Rio de Janeiro experienced its hottest day of the year, reaching 41.9C on Saturday, recorded at Marambaia station in Rio's western zone.
The El Niño phenomenon is expected to last until at least next April, the World Meteorological Organization has said. With this year already set to be "the warmest on record", 2024 may be "even warmer than 2023", said WMO secretary-general Petteri Taalas.
El Niño is typically associated with higher atmospheric temperatures, particularly in the year after it develops, but Taalas noted that the heat-trapping effect of greenhouse gases produced by human activity was responsible for the heat records being recorded so far.
El Niño is also associated with wetter conditions in some parts of the world. The WMO predicted more rain in the next three months in parts of the Horn of Africa, South America and central and eastern Asia. "Extreme events such as heatwaves, drought, wildfires, heavy rain and floods will be enhanced in some regions, with major impacts," said Taalas.
In Somalia, the UN Office for the Coordination of Humanitarian Affairs blamed El Niño for exacerbating the worst flooding the country has experienced in a century and said it was providing assistance to 680,000 people. The "El Niño floods" death toll was put at 50, the Somali Disaster Management Agency said on social media platform X on Thursday.
In Dubai, the host city for the upcoming UN climate summit, floods at the end of last week led to safety alerts from police, the cancellation of flights and the suspension of schools.
In recent days, regions across the southern hemisphere, from Kenya to the Dominican Republic, have suffered inundation from heavy rainfall that has caused danger and widespread disruption.
This year's El Niño episode has so far been less powerful than previous ones in 1997 and 2015 to 2016 but was still described as "strong" by the WMO.
The difference between monthly sea surface temperatures in the affected part of the Pacific and the long-term average rose to 1.5C in September, compared with 0.5C above average in May, the WMO said.
Looking ahead to next year, Walter Baethgen, a scientist at Columbia University's International Research Institute for Climate and Society, said years of strong Pacific Ocean warming such as that the world was experiencing now had often been followed by years of strong Pacific Ocean cooling, in the opposite effect to El Niño known as La Niña.
A strong warming event in 1997 and 1998 was, for example, followed by a prolonged cooling effect between mid-1998 and early 2001. And during the "triple whammy" of successive La Niña cooling events between 2020 and 2022, the phenomenon remained relatively weak.
But this alternating pattern is not guaranteed, and conditions for each year are particularly hard to forecast until the "spring predictability barrier" between March and May has passed.
Last year, the warmest on record, was a La Niña year of Pacific Ocean cooling, while the previous hottest year was 2016, an El Niño year of Pacific heating.
El Niño occurs on average every two to seven years and typically lasts up to a year.
Both the cooling and warming trends in the Pacific Ocean have localised knock-on effects that are strongest in regions close to the equator, and neither one can trigger as significant changes to global temperatures as the ones brought about by the heat-trapping effect of greenhouse gases, Baethgen said.
"The only hope to have a consistent robust cooling of global temperatures is by reducing greenhouse gases. There's no mystery or other way about it."
Climate Capital
Source: FT