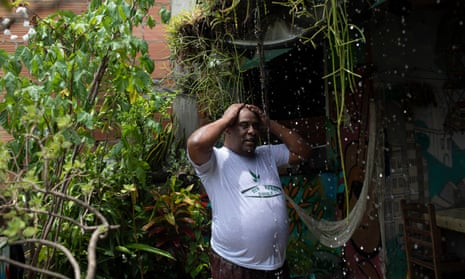 'Hell de Janeiro': scorching heat highlights Brazil's glaring inequality
It felt like 58.5C in Rio on Tuesday – and the soaring, indeed dangerous, temperatures are hitting the poorest hardest
The start of summer in the southern hemisphere is still a month away, but Brazil has already experienced its eighth heatwave of the year so far, as temperatures soar to dangerously high levels.
Large swathes of the country were put under red alert this week by Inmet, the national meteorological institute, which warned of risks to health "and even life" as temperatures stayed at least five degrees Celsius above average for more than five days.
The dangers were brought into sharp relief by the death of a fan at a Taylor Swift concert on Saturday night in Rio de Janeiro, at which thousands of other concertgoers reportedly had to be treated for dehydration.
Ana Clara Benevides Machado, 23, collapsed in the Estádio Olímpico Nilton Santos stadium and died shortly afterwards, reportedly from a cardiac arrest, after sweltering conditions were reported at the venue where the temperature was far higher than the official 39.1C outside.
The singer joined fans and politicians in expressing her shock at the death. Swift wrote on social media that she was "devastated" at the news, and "overwhelmed by grief".
At the start of the concert, fans were reported to have shouted repeatedly towards the stage for "water, water, water", after allegedly being prevented from taking supplies into the stadium with them.
Brazil's justice minister, Flávio Dino, posted on X that emergency rules would be implemented requiring leisure venues to allow fans access to water. Other politicians across the region were expected to follow suit.
Following Brazil's hottest July, August, September and October on record, this week's temperatures were expected to "rewrite climate history" in the country, the MetSul weather company said. Experts partly attribute the excessive heat to a strong El Niño, with the climate crisis making the intensity and frequency of such events more likely.
Inmet thermometers repeatedly registered temperatures above 40C across the centre-west and south-east, with a peak of 43.3C in Corumbá on the border with Bolivia on Wednesday. With temperatures hitting 37.7C and 42.6C, respectively, São Paulo and Rio de Janeiro broke records for the year. In Rio, affectionately nicknamed "Hell de Janeiro" by locals, feels-like temperatures reached a staggering 59.7C on Saturday.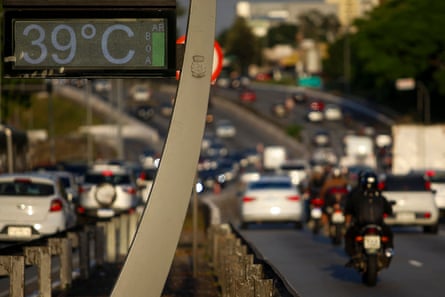 White-collar workers who usually work from home poured back into air-conditioned offices to escape the unforgiving heat and astronomical electricity bills, but that was not an option for people like Flávio Figueiredo, a favela moto-taxi driver.
The heat "makes work more stressful", said the 42-year-old, sheltering in the shade of a tree at the entrance of Parque Arará, a favela located off Avenida Brasil – one of Rio's busiest and most polluted thoroughfares – and backing onto an oil refinery.
"If the temperature is, say, 30C, when you stop on the tarmac it feels like 40, 50," he added.
As elsewhere, Brazil's glaring social inequalities are heightened by extreme weather events.
"The reality of a heatwave during the week is not the pictures of crowded beaches. … The reality of a heatwave is packed buses with broken air conditioning, public schools without air conditioning or a functioning fan. That is the reality of climate injustice," said Marina Marçal, a climate policy specialist who has been advising the Brazilian government on how to address this inequity in its climate and urban agendas.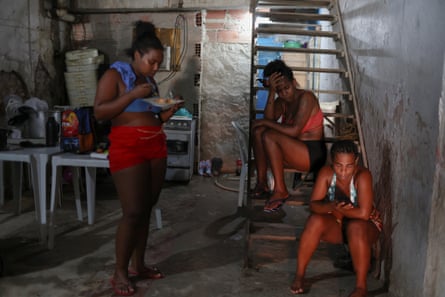 "Poorer areas, like favelas, are the hottest areas," said Andrews Lucena, a geographer at the Federal Rural University of Rio de Janeiro studying extreme urban heat. "Favelas are heat hotspots because they have the worst material construction conditions, an absence of green spaces, and often unfinished buildings, which favours an accumulation and excess of heat."
Often dependent on clandestine hookups to the grid, favela residents are also more likely to suffer from frequent power and water outages.
"Public authorities don't look [at us], there's no effort to improve things," said Luis Cassiano Silva, an Arará resident, putting this down to structural racism. Like 56% of Brazilians – and 67% of favela residents – Silva is Black.
The favela's oppressive heat always bothered the 54-year-old, who previously lived in leafier areas and has a propensity to sweat excessively. Twelve years ago, he took matters into his own hands and created a green roof on his house, working with researchers from the Federal University of Rio de Janeiro to design a prototype that worked on more precarious constructions.
Today, the flourishing roof garden keeps his terrace below noticeably cooler. "It's lovely," said the environmental activist, before adding "but seriously, it's really hot … and it keeps getting worse."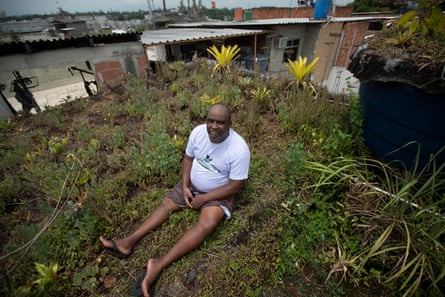 The heatwave was expected to peak over the weekend, according to the Inmet meteorologist Dayse Moraes, but a particularly hot summer could lie ahead.
"If it gets much hotter, I don't know how we'll cope," said Marileidi Francisco, 42, a shopkeeper in Arará.
Silva has tried to replicate his cooling roof, but although his Teto Verde Favela project helped green the square where Figueiredo was sheltering from the sun, the garden roofs haven't really taken off in Parque Arará, which remains a blistering red and grey jumble of brick and corrugated iron.
To cool down, residents simply turn to "an outdoor shower or a beer at the bar" said Silva, mopping his dripping forehead, while round the corner the gangsters who control the area sought relief in a pool they had set up on the street.
Explore more on these topics
Also Visit: World News | Trending News | Entertainment News

SC: Guardian