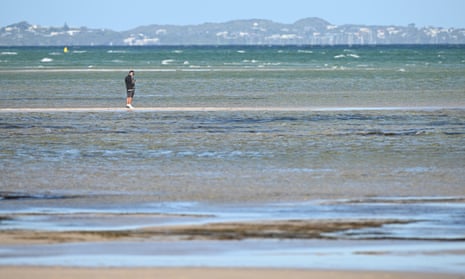 Military-style jet crashes into Port Phillip Bay after colliding with another plane
Two planes involved were Viper S-211 Marchetti jets with second aircraft safely landing at Essendon airport after incident, authorities say
A search is under way for a pilot and passenger who were onboard a small military-style jet that crashed into the water off Melbourne's Mornington Peninsula after a midair collision.
The Australian Maritime Safety Authority (Amsa) said the two light aircraft collided over Port Phillip Bay on Sunday afternoon with one of the planes crashing into the water.
Amsa said the two planes were Italian-made Viper S-211 Marchetti jets which are often used for military training. The AAP newswire reported the planes were on a civilian-operated formation flight when they collided.
The second plane — also carrying two people — subsequently landed safely at Essendon airport on Sunday.
Emergency services were called to reports of a plane crash in Port Phillip Bay about 12km west of Mount Martha at about 1.45pm.
Ambulance Victoria paramedics responded but handed responsibility for the incident to police by Sunday evening.
Three rescue helicopters were scouring the scene along with water police and volunteer marine rescue units, authorities said. The wreckage of the crashed plane had been located.
Amsa was coordinating the response and said it would continue looking for the two missing people until nightfall.
The Australian Transport Safety Bureau was in the early stages of investigating the crash.
News Corp Australia reported on Sunday evening the planes belonged to a company that offered joy rides over Melbourne.
Explore more on these topics
Also Visit: World News | Trending News | Entertainment News

SC: Guardian