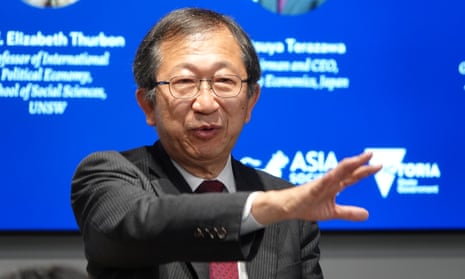 More support for hydrogen needed to stop Australia lagging on clean energy, Japanese expert warns
Tatsuya Terazawa says Albanese government must also consider carbon capture and storage and small modular nuclear reactors
Australia's hope of becoming a clean energy superpower won't be realised unless it lifts support for hydrogen and considers carbon capture and storage or even small modular nuclear reactors, a visiting Japanese expert said.
Tatsuya Terazawa, chief executive of Japan's Institute of Energy Economics and an Asia Society-Victoria distinguished fellow, said Australia's appeal for investors would also hinge on how it treated LNG projects.
The Albanese government last year sent a "shock wave" when it signalled it might treat gas for export less favourably than for domestic users, Terazawa said. Japan relies on Australia for 40% of its LNG imports.
While that reliability "question mark" had been addressed, plans to impose greenhouse gas emission curbs as part of the government's safeguard mechanism had stoked other doubts, he said.
"We understand the necessity for any country to introduce measures to reduce CO2 emissions but we want to make sure that those regulations will be respectful of the legitimate concerns of the investors so that companies can smoothly comply," Terazawa said.
Japan officials, including a former ambassador to Canberra, have been outspoken in their criticism of gas industry changes.
Terazawa stressed he was not speaking as a government representative. Still, his previous roles, including as a vice minister in the powerful ministry of energy, trade and industry and involvement in formulating Japan's "Green New Deal", gained him access to officials in Canberra during his current visit.
Australia's clean energy superpower aspirations would require much more support for the hydrogen industry, Terazawa said. That includes the "green" form using renewable energy or a "blue" one using fossil fuels with carbon capture and storage (CCS) for resulting emissions.
The government's $2bn Hydrogen Headstart program was "very, very small compared with what other countries are doing and also will be much smaller than what the Japanese government will put into place as a demand-side measure", Terazawa said.
Competitors include the US, Canada and Europe, with Saudi Arabia preparing to use its "huge amount of oil dollars in the war chest" to become major suppliers of hydrogen and ammonia.
Australia was also "unique" in pursuit of hydrogen without CCS too, Terazawa said. Nations including Japan would struggle to eliminate all emissions without CCS projects succeeding.
Federal energy minister Chris Bowen defended his government's focus on renewable energy-sourced hydrogen.
"Australia is focussing its government support on green hydrogen, as we should," Bowen said.
"Mr Terazawa is entitled to his views, but as the recent collapse of NuScale shows, SMRs on a timetable suitable for Australia's decarbonisation journey is a fantasy," he said, referring to recent cancellation of a US-based reactor program that the Coalition had been touting.
Fiona Simon, chief executive of the Australian Hydrogen Council, said the headstart program was critical for the industry but they would "require significant funding packages in the future to get the industry to scale".
"We know that renewable and green hydrogen is the long-term priority solution for Australia," she said.
Her council recommended in a recent position paper that the government remained open to blue hydrogen "for regions that can support it without unnecessarily delaying renewable hydrogen development projects".
"The risk for Australia is missing out on 10-to-15-year contracts with potential trading partners, while other nations secure deals for blue hydrogen, allowing them to establish supply chains, infrastructure and skills," she said.
The Victorian and federal governments have been reluctant to stump up another $100m for a brown-coal-to-hydrogen project in part because of CCS risks but also the short-term contracts offered by Japanese partners.
Separately, Terazawa said Japan's Hitachi firm was working with the US's General Electric to develop small modular nuclear reactors (SMRs) that may be deployed as soon as 2028.
"It's not about ideas or imagination," he said. "They're actually happening."
The prime minister, Fumio Kishida, last December said Japan would build new nuclear plants, reversing policies in place after the 2011 Fukushima nuclear disaster.
"I'm not saying that SMR should be there but SMR will be part of the potential reactors to be used for replacing the existing older nuclear reactors," he said.
Ted O'Brien, shadow climate and energy spokesperson, said the global transition to net zero emissions "will be so technically and economically challenging that we require all technologies to be on the table, including blue hydrogen, CCS, gas, renewables and next-generation, zero-emissions nuclear energy".
"Labor's reckless war against gas has introduced sovereign risk issues for Australia that is causing deep distress for our friends in Japan who rely on imported foreign fuels to keep their lights on and their industries powered," O'Brien said.
"Energy security is national security, and no nation understands this better than the Japanese who rely on countries like ours," he said. "It's true that other countries are looking at introducing SMRs on to their grids before the end of the decade, but the Albanese government is refusing to even consider the possibility of zero-emissions nuclear technology."
Explore more on these topics
Also Visit: World News | Trending News | Entertainment News

SC: Guardian