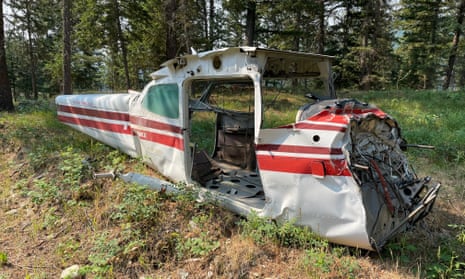 Mystery of 'decades-old' plane wreck in Canadian backcountry solved
Police were stumped when 'crashed' plane was found in remote Yukon, but it was placed there last summer for rescue training
When a hunter in British Columbia stumbled upon the crumpled remains of an airplane fuselage on 3 November, he reported the grim findings to the Royal Canadian Mounted Police (RCMP).
Officers were dispatched to the remote crash site to survey the wreckage and concluded that the shell of the bush plane, with no motor, wings, doors or seats, was likely more than two decades old.
Investigators surmised that the plane had probably been destroyed in a crash, but no bodies were discovered near the site.
"Only the fuselage remained," a police spokesman said. "Additionally, no registration numbers were attached."
The mystery appeared to be inexplicable, until search-and-rescue experts came forward to say they knew just how the plane had ended up in the BC backcountry – because they put it there last year.
On Tuesday, Transport Canada published a report about wreckage north of Kamloops, British Columbia. According to the Civil Aviation Daily Occurrence Reporting System, little was known about the aircraft, other than it was "destroyed", likely by "collision with terrain".
After studying the crash site, officers concluded the wreckage has been on the hillside for decades. But in a subsequent media release, the RCMP deepened the mystery after it said there were no reports of missing planes or passengers.
Soon after, however, members of Canada's Civil Air Search and Rescue Association (Casara) came forward to explain.
Search experts placed the wreckage on a mountaintop last summer, as a prop for training programmes, local media outlet Castanet first reported.
When planes crash in the Canadian backcountry, the wreckage can easily be lost in the vastness of the wilderness. In one case, a large military transport plane carrying 44 crew and passengers disappeared in the north of the Yukon territory. Despite a massive search effort, no trace of it has ever been found.
In an effort to avoid such scenarios, search-and-rescue teams practice on historic wrecks or scrapped planes which have been scattered across the province.
"We like to make it as real as possible for them: smoke, injured people. They love it and we get to treat it like a real downed aircraft," said Fred Carey, director general of British Columbia's air rescue.
Carey said a team hauled the "carcass" of the Cessna up a mountainside north of Kamloops last summer using a logging skidder. "Let's say it was quite the chore."
The damaged fuselage was never meant to be a secret. After the wreckage was placed near Knouff Lake, both the local airport and the province's main rescue coordination hub in Victoria were notified, said Carey.
"There are placards in the wreck and even a phone number to call," he said. "I'm not sure what happened, maybe the placards wore off. But in this case, it doesn't look like the authorities followed protocol."
The RCMP did not immediately respond to a request for comment.
Explore more on these topics
Also Visit: World News | Trending News | Entertainment News

SC: Guardian