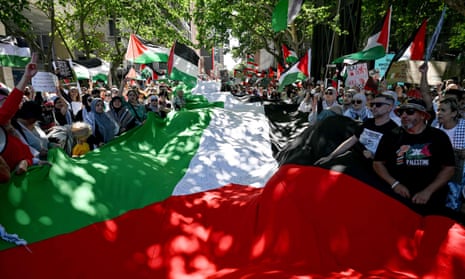 Tens of thousands demand Gaza ceasefire at pro-Palestine rallies across Australia
Organisers say growing popularity of protests speaks to 'abhorrence at the way our government is dragging its feet in calling for an immediate ceasefire'
Tens of thousands of people have rallied across Australia at pro-Palestine rallies for the sixth week in a row while demanding a ceasefire in Gaza.
Protests and marches were held in capital cities with the biggest events in Sydney and Melbourne on Sunday.
The president of the Australia Palestine Advocacy Network, Nasser Mashni, said the political reaction to the ongoing bombardment of Gaza was a "vote-changer".
"We'll be on the streets every week demanding freedom and self-determination for Palestine – this will be a vote-changer because people feel that they can't trust MPs who stay silent," he said on Sunday.
"The popularity of these protests speaks to the community's feelings of injustice and abhorrence at the way our government is dragging its feet in calling for an immediate ceasefire. The frustration and desperation of the community is palpable."
Mashni said people had been signing petitions, writing letters and making phone calls to MPs but even as the death toll passed 12,000 civilians "the language here has barely changed and it feels like we're no closer to action".
It was estimated tens of thousands turned up to the rally at Hyde Park in Sydney and police said 15,000 were outside the State Library Victoria in Melbourne although organisers said the latter protest was larger.
Julian Assange's father told the crowd in Melbourne that the ongoing bombing of Gaza would only incite more rage and a hunger for justice across the world.
"Soil watered with the blood of precious children over the past 36 days – what do they expect will grow from that soil?" John Shipton said.
"I can tell you – rage, a hunger for justice that's swept around the globe and embraced every human being that is sentient enough to have sympathy for another."
Israel's invasion of Gaza has resulted in more than 12,000 Palestinians being killed including more than 5,000 children. The invasion followed Hamas attacks on 7 October that killed 1,200 Israelies and resulted in more than 240 people being taken hostage.
The Greens senator Mehreen Faruqi also addressed the Melbourne crowd before they marched to Treasury Gardens.
She said the federal government must denounce what she described as the "genocide" in Gaza.
"They can't even bring themselves to join the chorus of nations that are calling for a ceasefire," Faruqi said on Sunday. "Shame on them … we will not shut up."
Other pro-Palestine rallies were held on Sunday in Brisbane, Adelaide and Perth.
On Saturday, the federal government announced fresh sanctions against a number of Hamas members, operatives and financial facilitators, as well as a currency exchange owned by one individual.
The Australia Israel and Jewish Affairs Council said the announcement was a "step in the right direction".
"The war in Gaza is under way because Israel has to urgently remove Hamas' ability to wage war against Israelis and also give Palestinians living under its tyrannical rule in Gaza a chance at a better future," the council's executive director, Colin Rubenstein, said.
In Sydney and Melbourne, kites were flown on Sunday in support of the hostages still held by Hamas in Gaza.
There was separately a rally supporting Israel in Brisbane that had been promoted by New Zealand far-right activist Brian Tamaki.
The New Zealand Labour party on the weekend broke caretaker conventions to call for a ceasefire in the Israel-Gaza conflict.
The outgoing prime minister, Chris Hipkins, declared his party's position on Sunday while still holding office.
"We are seeing devastation and loss of life on a massive scale and Gaza and Israel," he said.
"It has become untenable for me and it runs against Labour party values to stand by and watch the horrific scenes we are witnessing without calling for a ceasefire. The loss of civilian lives must stop."
The Labour party remains in power but is effectively an opposition in waiting after losing the 14 October election, continuing on as a caretaker government while the centre-right National party negotiates a governing arrangement with parties on the right.
Hipkins said he approached National to make a call for a ceasefire New Zealand's formal policy – in keeping with policymaking practice during the caretaker period – but the incoming prime minister, Chris Luxon, did not agree.
Explore more on these topics
Also Visit: World News | Trending News | Entertainment News

SC: Guardian