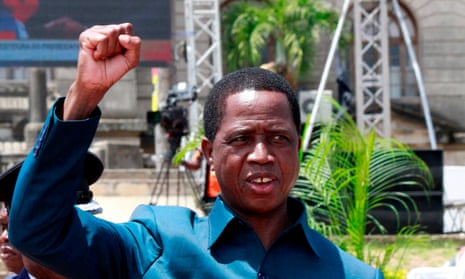 Zambia police accuse ex-president of 'political' jogging
Morning runs by Edgar Lungu and party supporters amount to 'activism' that requires clearance, police say
A former president of Zambia has been warned that his morning jog is turning into "political activism" for which he must seek police approval.
The police said the runs by Edgar Lungu and some of his party supporters requires their clearance to ensure the safety of the man who lost power in 2021.
"We have noted with concern the unlawful assembly and political activism that was conducted by the Patriotic Front (PF) cadres when the former president Edgar Lungu was conducting his morning jogging routine," police spokesman Rae Hamoonga told AFP.
"Public gatherings should be notified to the police," he said.
Lungu's Lawyer, Makebi Zulu, told AFP he does not require a police permit.
"It's the police that are violating the law … no law states that you require a police permit for such events.
"This is a recipe for anarchy and the police should stop listening to politicians," said Zulu.
On Monday, Lungu attended a funeral service in Lusaka and was mobbed by his supporters, said the lawyer.
The 66-year-old Lungu led copper-rich Zambia from 2015 before losing the 2021 election.
Explore more on these topics
Also Visit: World News | Trending News | Entertainment News

SC: Guardian