Adam Azim won the European super-lightweight title in just his 10th professional fight, dominating Franck Petitjean in fantastic style at The Hall in Wolverhampton.
Azim began rapidly, his quick jab darting out and catching the champion. He sent the jab to the body, touching the champion high on the head with a right disrupted the Frenchman.
His speed and energy was taxing for Petitjean from the start. But the crafty champion forced Azim to work to find openings.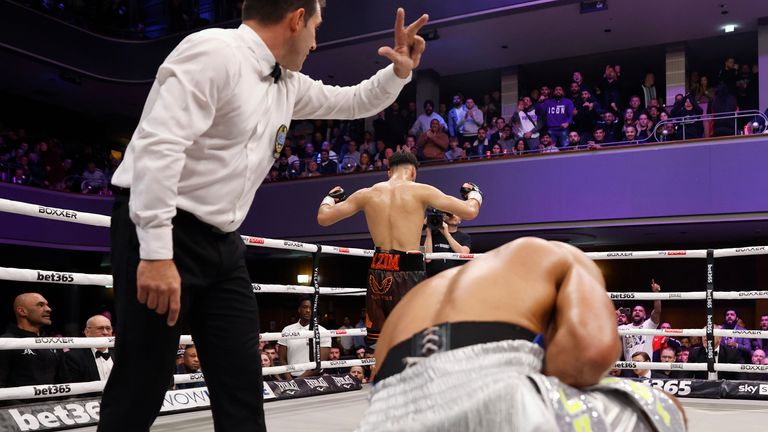 Petitjean's plan was to take Azim into the later rounds, and see if he could take over the contest down the stretch.
Azim though simply would not allow that and found the key to unlock his southpaw opponent's resistance.
In the fifth round he scraped a sickening left hook across the Frenchman's stomach. It dropped Petitjean to his knees, although the champion struggled back up to his feet to beat the count.
Azim then subjected him a savage assault, screwing his left hook into Petitjean's side and turning up the pressure as he whipped his right in flush.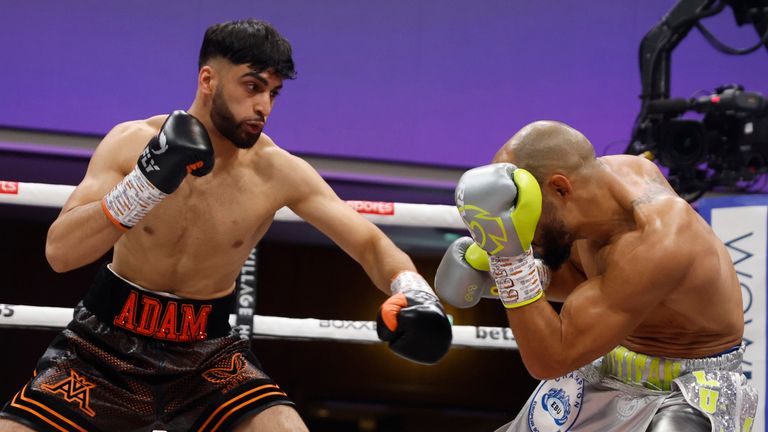 By the second half of the fight Azim was in full command. His left hook sank into the champion's chin and, as Petitjean began to run out of ideas, he simply had to enduring shuddering hit after shuddering hit.
A jolting right cross-left hook combination stunned Petitjean. The force of it drew blood from the champion's nose. Petitjean held his feet beneath him but listed back towards the ropes. Azim curved through a hard right uppercut and planted his cross firmly into Petitjean's stomach.
He continued to work over his opponent. However, in the ninth round when another attack strayed low, the referee took a point off Azim.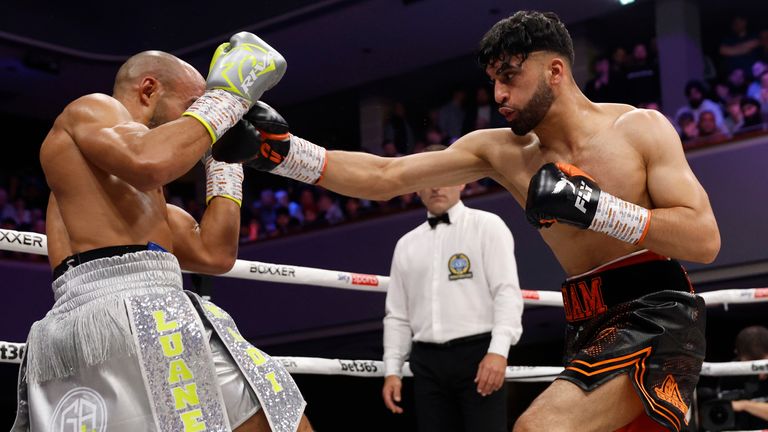 That prompted a furious response. Azim went straight back in, lining up repeated left hooks to the head.
He feinted with the right and his left hook smacked in. He launched long cross into Petitjean's chin and Azim beat him to the punch with a deft jab just to highlight his dominance.
The champion was older and more experienced, but he was having to use those attributes just to stay in the fight, while Azim maintained the bombardment.
Eventually Petitjean could endure no more. With flying right uppercuts Azim battered the champion down to the canvas. He stayed slumped over a knee as the referee counted.
His corner had seen enough and tossed a white towel through the ropes to end it at 2-17 of the 10th round.
Azim was thrilled to win the first major title of his career.
"I'm feeling amazing," he said afterwards. "He was really tough, I knew I couldn't stop him in the early rounds, this was a development fight for me, I had to chop the tree down and I did that. I could have gone another 15 rounds then."
Also Visit: World News | Trending News | Entertainment News

SkySport