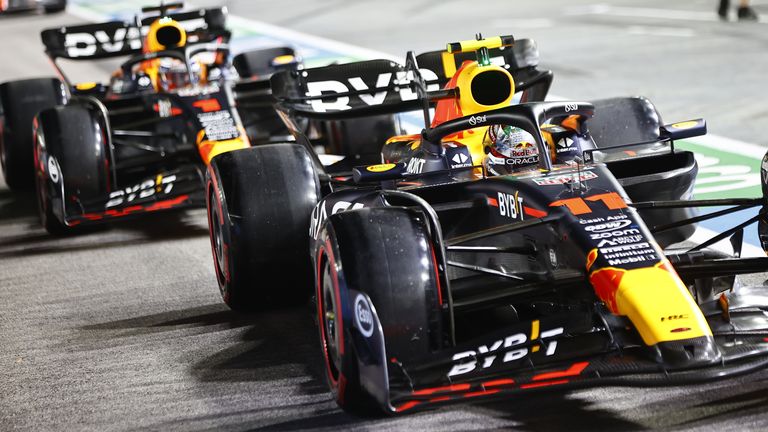 Christian Horner has conceded the Singapore Grand Prix weekend exposed the weakness of Red Bull's previously unbeaten RB19 and says it is a "very useful lesson" for their 2024 car.
Red Bull's unprecedented winning streak of 15 races ended at the Marina Bay Street Circuit after a double Q2 exit in qualifying which Max Verstappen and Sergio Perez could not overcome as Carlos Sainz claimed victory for Ferrari on Sunday.
Starting 11th, Verstappen eventually came home fifth while Perez made it up to eighth from 13th on the grid.
Red Bull had been off the pace from Friday but Horner said the team understood their issues much more after Sunday's race and hopes the rare weaknesses uncovered will be able to be fixed for their 2024 RB20.
"I think maybe our simulation before the weekend didn't lead us to the right conclusion and then you have to sort of unravel your way out of that," Horner said.
"We just ended up in the wrong window and it exposed some of our weaknesses that the car has. It has actually been a very useful lesson for next year because it gives us a very useful insight on certain things that hopefully we can address in RB20."
He added: "We understood a lot more in the race and the pace of the car came much more back to what we expected.
"We knew coming here we expected to have closer competition, but it took us a bit by surprised just how far our we were on Friday and we were just not in the right operating window for the car, particularly over a single lap.
"When you're not there, the tyres feel horrible and everything just doesn't work. I think we got a very good steer in the race. Particularly in the latter stint Max's pace was very, very strong."
Horner: Safety Car timing 'completely screwed' strategy gamble
Verstappen and Perez started on the hard tyre in a bid to make up places when cars ahead of them pitted. But the Safety Car being deployed on lap 20 after Logan Sargeant's Williams hit the wall allowed the lead cars to gain a 'free' pit stop.
Verstappen and Perez briefly ran second and fourth by staying out, but they were swiftly picked off by George Russell, Lando Norris, Lewis Hamilton and Charles Leclerc on their fresh tyres.
The Red Bulls finally had to pit under racing conditions on laps 39 and 40 – moments before a lap 43 Virtual Safety Car deployment – with Verstappen and Perez re-emerging in 15th and 18th respectively, from which they both made up 10 places in their final stint.
"The lap the Safety Car came out on was probably strategically the worst possible lap for the strategy that we were on because it gave the cars ahead of us a free stop at the same time as whilst giving us track position it made us take the restart with tyres that are very hard to heat up again having done over 20 laps," Horner said.
"Max was then picked off by guys who had the free stop. We then had to do a pit stop under normal racing conditions which then drop you another 23 seconds behind with that. All considered, the recovery that we had and the pace we had in the latter part of the race was a strong race."
Horner expects Red Bull to be back in the hunt for victory at next weekend's Japanese Grand Prix, which is live on Sky Sports F1.
"Look at the last 18 months, this has probably been one of our trickiest race weekends – or certainly Friday and Saturday, in the race the car was pretty strong," he said.
"A completely different layout, completely different type of circuit, so hopefully we can be competitive in Japan.
"Let's see if it's circuit specific. If Ferrari are suddenly first and second in Japan next weekend, then we'll see if there's a significant jump.
"We've seen form move around so much this year – the one consistent was ourselves and this weekend we were the one that found ourselves slightly out of shape and while we recovered in the race, the Safety Car completely screwed it for us."
Verstappen, whose consecutive wins record will stand at 10, believes he will be back fighting at the front in Japan.
"I think we will be quick in Suzuka," he told Sky Sports F1.
'Red Bull never expected to clean sweep 2023 season'
Given the RB19's dominance so far this season, many in the paddock had speculated that Red Bull could win every race in 2023, but Horner insists that had never been on the team's mind.
"We never expected [a clean sweep]. There were still eight [now seven] races to go," Horner said.
"I've been asked since pretty much Jeddah and to have got through 15 races is beyond our wildest imaginations. For Max to have won 10 in a row is insanity. Incredibly proud to have the first and second (Sebastian Vettel) most [driver wins in a row] in Formula 1.
"While statistics apparently don't matter, they are ones that as a team we are incredibly proud of.
"To have got this far, to have broken a record since 1988 shows just how hard it is to achieve the supremacy that we've achieved this year. It's testimony to everyone doing their part."
Get ready to set those early alarms as Formula 1 now heads to Suzuka for the Japanese GP. Watch all sessions live on Sky Sports F1 from September 22-24. Stream F1 on Sky Sports with NOW. Cancel anytime