Nottingham Panthers to retire No 47 jersey in honour of Adam Johnson, their former player who died in October after taking a cut to the neck from a skate during game; Panthers held memorial match for Johnson on Saturday evening as they played Manchester Storm at sold-out Motorpoint Arena
Last Updated: 18/11/23 8:35pm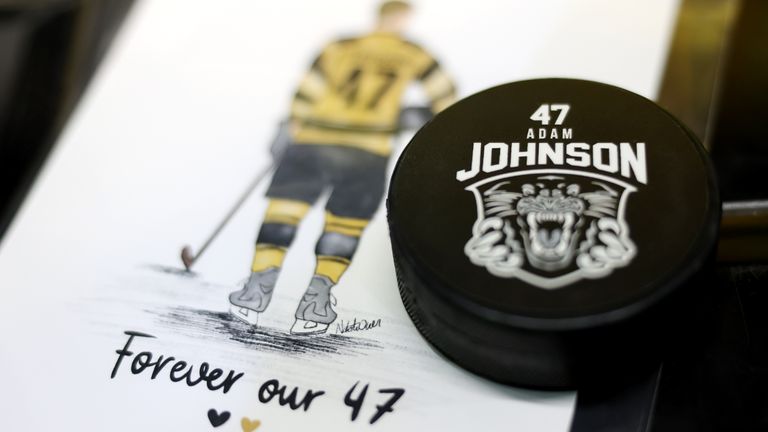 Nottingham Panthers paid tribute to Adam Johnson as they held a memorial match for the ice hockey player who died following a fatal injury on the ice last month.
Panthers played Manchester Storm on Saturday evening, their first fixture since 29-year-old Johnson passed away after being cut on the neck by a skate in the game against Sheffield Steelers on October 28.
A man was arrested on suspicion of manslaughter and later released on bail as inquiries continue.
The sold-out crowd chanted Johnson's name and players were cheered onto the ice during Saturday's match at the Motorpoint Arena, when it was announced that Panthers would retire the player's No 47 jersey.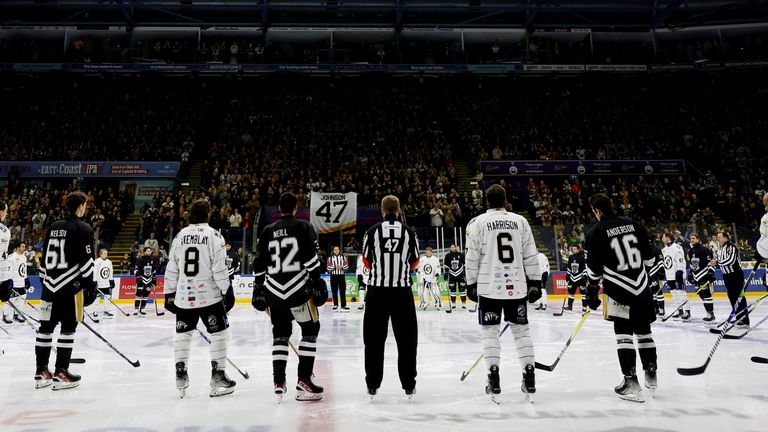 As the lights in the arena faded, Johnson's picture was displayed on the main scoreboard above the rink, alongside the words 'forever our 47' in honour of his shirt number.
"He will forever be our No 47," announcer Stef Litchfield said. "He was not only an outstanding hockey player but also a great teammate. He was an incredible person with his whole life ahead of him. We will miss him dearly."
Panthers and Storm wore special shirts that will be raffled with profits going to the 'Love for Hibbing and Hockey Memorial Fund', which was established to support charitable causes in Johnson's hometown area of Hibbing, Minnesota in the United States.
Since Johnson's passing, the English Ice Hockey Association has said neck guards will become mandatory from 2024 but the Elite League, in which the Panthers compete, is not under its control.
The Elite Ice Hockey League said it will not make the use of neck guards compulsory but will "strongly encourage" players and officials to wear them.
Panthers will resume their regular season against Belfast Giants on November 26.
Also Visit: World News | Trending News | Entertainment News

SkySport