Mauricio Pochettino believes Mykhailo Mudryk needs to "understand the game better" after the winger failed to make an impact on his first start of the season in Chelsea's 0-0 draw at Bournemouth.
The £88.5m signing was substituted in the 63rd minute as his disappointing time at Chelsea continues, with the Ukraine international yet to score a Premier League goal in his 19 appearances.
Mudryk joined Stamford Bridge from Shakhtar Donetsk on a eight-and-a-half-year deal in January and he is yet to impress, but Pochettino believes the 22-year-old needs more time to adapt to the Premier League.
The Chelsea head coach told Sky Sports: "He is improving. He still needs to learn; the Premier League is very fast, the speed of the game is so fast.
"I think it's about understanding the game better, try to be more connected sometimes with the team.
"We need to give the time and to give the tools for him to improve during the season."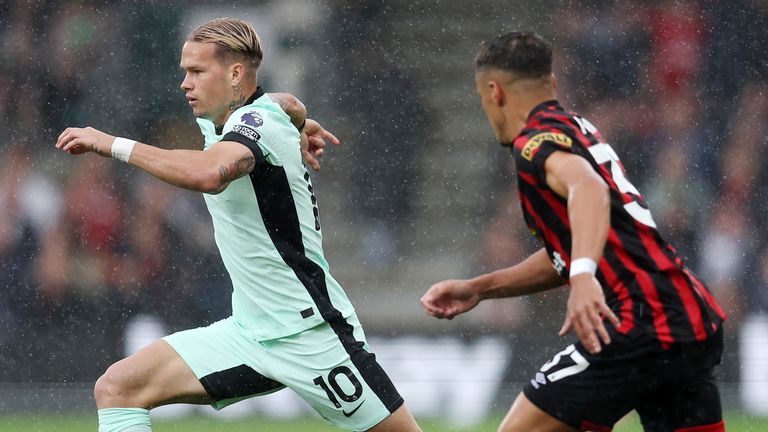 Mudryk was part of a £1bn splurge by Chelsea since their takeover in May last year, but their spending is not translating to success on the pitch with the drab goalless draw at Bournemouth leaving them with five points from their opening five games.
Chelsea have only scored five goals in the Premier League so far this season – their fewest after five games of a top-flight campaign since 1995-96 (5), when they finished 11th.
The Blues wasted several chances at the Vitality Stadium on Sunday and Pochettino admitted his side need to be calmer in front of goal if they are to solve their scoring issues.
He said: "We need to be tough in the way we are trying. It's about improving our efficacy in front of the goal.
"We need to be calm also, but in these types of circumstances it is not easy for the players to be calm in front of the goal but we cannot blame no one."
Some Chelsea fans greeted the full-time whistle at Bournemouth with boos as the 0-0 draw left the Blues languishing in 14th place with just one win in their first five league games.
Pochettino's side were also booed off in their home defeat to Nottingham Forest before the international break.
"I'm not going to ask the fans for patience," the ex-Tottenham boss said. "They need to behave how they want to behave.
"We cannot put excuses because I think it was a club decision to do what we need to do but that is the process that we need to be strong in our belief.
"Of course we are disappointed because the fans are disappointed because of the situation. I'm not worried about that because we know what we are doing and I think when we start to recover players, be more competitive and to have players that can make an impact from the bench with more squad numbers, I think it's going to be a team that's going to win many games."
Hasselbaink: Chelsea players need to be more selfish in front of goal
Former Chelsea striker Jimmy Floyd Hasselbaink told Sky Sports:
"Someone needs to take the responsibility to say, 'I'm going to go by myself and I'm going to finish with a shot'.
"We didn't see enough of that. We saw passes that put their team-mate in, but the passes weren't great.
"Sometimes you have to be more selfish and go direct and finish the action. It was not enough.
"They are creating chances, they're playing well and they're passing the ball up to that final third. The issue here is the final pass and scoring goals, it's that final bit that they have to figure out."
Carney: Chelsea trying to score perfect goal
Ex-England Women winger Karen Carney told Sky Sports:
"I feel like Chelsea have tried to create the perfect team by bringing these players together and today [Sunday], they tried to score the perfect goal doing the same thing.
"Theo (Walcott) and I were saying for the whole game 'just shoot' because every time you dribble with it, Bournemouth kept dropping and they kept running into a wall.
"Pullbacks need to be better, take on the shot, take the responsibility and ownership because it's not the perfect goal, but it's what Chelsea are trying to do. It won't happen in the Premier League."
Sky Sports' David Richardson:
New season, new signings but the same old scoring problems for Chelsea.
Five goals in five Premier League games represents their worst start at the top end of the pitch since 1996.
Their troubles last season – 38 in 38 matches – led to Kai Havertz's departure but one of his replacements Nicolas Jackson is faring no better. The injury to Christopher Nkunku in pre-season has proved to be a significant blow.
The 22-year-old has scored once, missed six big chances and has had the sixth-most shots in the division.
Jackson started to get desperate at Bournemouth, slicing one effort from inside the box so dreadfully wide that he fell over in the process. He is also now one booking away from a suspension.
The new Chelsea ownership may have spent over £1bn on transfers since taking over last year yet they have badly overlooked the need for a proven Premier League striker.
Chelsea's next outing is at home to Aston Villa on September 24 – kick-off 2pm. The Blues then host Brighton in the Carabao Cup on September 27 – kick-off 7.45pm.
Also Visit: World News | Trending News | Entertainment News

SkySport